February 25, 2018 - 7:03pm
Local effort begins to create police officer 'Crisis Intervention Teams' to deal with mental health issues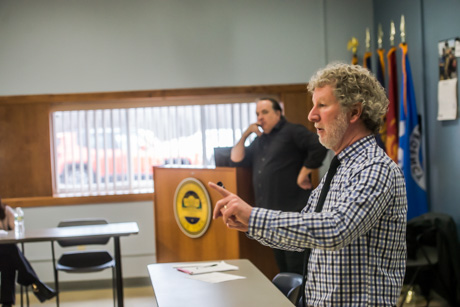 Local leaders in law enforcement, fire services, mental health and other crisis intervention professionals met at the Fire Training Center on Friday to help map out what services and resources the county has available to people with mental health issues.
The goal is to find ways to get people in the midst of a mental health crisis help before it becomes a law enforcement issue, and when a mental health issue does involve police officers, those officers have the training and resources to deal with it effectively.
Don Kamin, director of the Institute for Police, Mental Health & Community Collaboration in Rochester, along with Martin Giuliano, led the discussion.
Kamin's program is four years old and was created and funded by the State Senate. Both Monroe County and Erie County already have such programs in place, and it's now Genesee County's turn for organizing the program and providing training. 
In a couple of months, Kamin and his team and his team will return to start training a group of officers in local law enforcement who will be part of a Crisis Intervention Team. They will undergo 40 hours of training, on top of the 15 they've already received in their law enforcement academy, in dealing with subjects suffering from mental health issues.
"Number one, we want to train them on how to recognize mental illness and other disorders and then how to de-escalate that," Kamin said. "Also, just as important, give them more knowledge of the local system."
There are a number of mental resources available in Genesee County that could assist officers in the field but knowledge about those resources isn't evenly distributed through local law enforcement. One of the program's goals is to map out all of those resources and provide officers with the information.
"It's a good opportunity for us to take a step back and see what other communities are doing so that when we bring the report back to the Genesee County we can say 'hey, over here in Monroe County, over in Westchester, or over in Albany County, they're looking at these practices. Have you considered moving in that direction?' " Giuliano said. "We can try to integrate the best practices throughout New York State and get them spread to all the different communities."
New York's program is part of a national trend toward providing police officers with additional mental issue crisis intervention training -- this year the state's law enforcement academies will require 20 hours of training -- and creating crisis intervention teams.
"The goal here is to divert people from the criminal justice system when at all possible and get them the support they need," Kamin said. "This isn't a get out of jail free card. If folks, regardless of the level of mental illness, commit a serious crime they're going to be arrested; they're going to 14 West Street, but many times they don't need to be sent there and we want to intervene."