August 8, 2017 - 10:39am
Local group travels to New York to see Pero and Packard in 'Bandstand'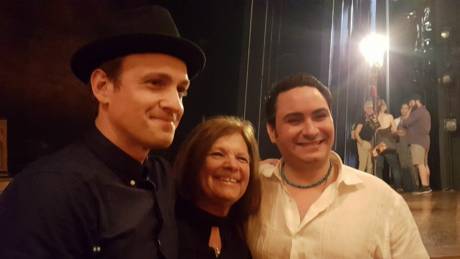 Story and photos by Alecia Kaus/Video News Service.
Debbie Packard is well known in the Genesee County area.
She taught kindergarten at Jackson Elementary School in Batavia for a long time and has touched so many.
This past weekend Packard hosted her annual three-day trip to NYC for those interested in attending a Broadway play.
This trip, however, was not like the others. This year their flight was canceled at the last minute and they could not get another plane.
So the group of 24 women got creative real quick.
Taking to the rails on an Amtrak train, the group of women made their way to the Bernard Jacobs Theatre on West 45th Street to see "Bandstand," which opened on Broadway on April 27 after a successful run at Paper Mill Playhouse in the fall of 2015.
The Genesee County/Brockport assembly of women made their way past the excited fans and learned an after-show "meet and greet" was set up for family and friends of both Geoff Packard and Joey Pero, who are co-stars in the new musical which takes place in 1945 in Cleveland, Ohio.
The Tony Award winning musical is directed and choreographed by Andy Blankenbuehler and centers around the journey of a band made up entirely of veterans who are returning home from World War II hoping that things will be the same.
Lead character Donny Novitski (Cory Cott) is held with the responsibility of checking in on his friend's wife, Julia Trojan (Laura Osnes), after he died in a friendly fire incident.
The two quickly form a bond as they share a chemistry through music and lyric writing. Julia joins the band as their singer and the band enters a nationwide competition where the winner will be featured on a live NBC televised segment and eventually a Hollywood movie.
"The Donny Nova Band" performs live jazz orchestrations throughout the show.
The musical gives a glimpse into the world of soldiers returning home who feel like underdogs that have been left behind battling for normalcy while fighting PTSD, loss, and the secrets of war.
"Just a lot of connections here tonight," says Elaine Watson, of Batavia.
" I absolutely loved the show. I worked for years at the VA and PTSD is very very real and a sad thing. Good to have it addressed."
In a stairwell, backstage near the dressing rooms, a memorial wall has been created for each soldier who has had a show dedicated.
There are eight shows per week.
In his dressing room before a show, Joey Pero reflected on his own battle to overcome being struck by a van on Feb. 12 and after three surgeries on his leg and countless hours of physical therapy was able to make a return to the show on June 30th.
"I'm getting stronger and stronger, going to take some time to be back to my old self, but I'm in pretty good shape right now."
This is Pero's Broadway debut.
"I hope the show runs until I'm 70," says Pero.
"I kind of developed the role as Nick Radel over the past couple of years, I have been very fortunate and you know it's kinda of tough because I'm not that gruff in real life."
Pero says he draws a few things from family and friends and people he knows into the role. He has had a lot of support from his hometown of Batavia.
"It always makes me more nervous to perform in front of people from my hometown, I love it though, it gives me some good energy."
Top photo: Geoff Packard, Debbie Packard and Joey Pero.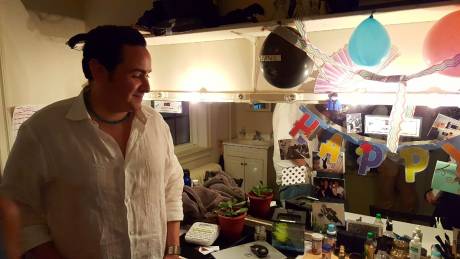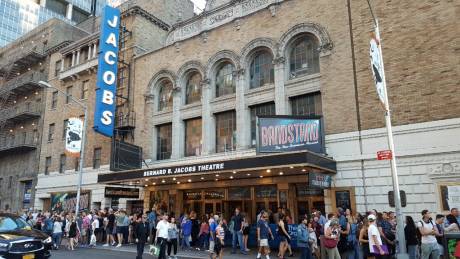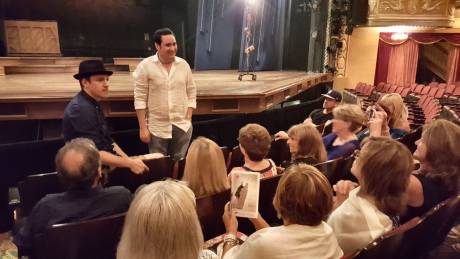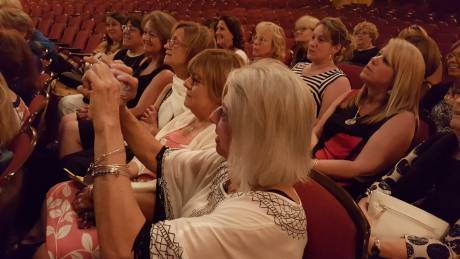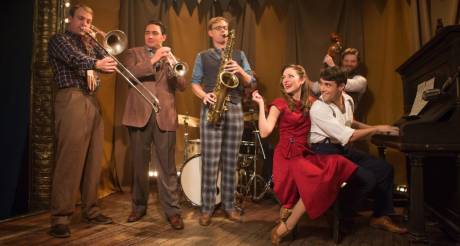 Bandstand cast members from left: Geoff Packard (Wayne Wright), Joey Pero (Nick Radel), James Nathan Hopkins (Jimmy Campbell), Laura Osnes (Julia Trojan), Cory Cott (Donny Novitski), and Brandon James Ellis (Davy Zlatic). Photo by Jeremy Daniel.