January 27, 2016 - 2:44pm
Local patron of the arts and radio personality Wanda Frank passes at age 89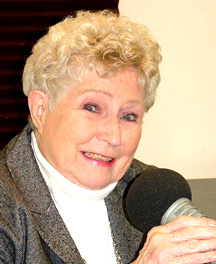 Wanda Frank 1926 - 2016
WBTA's local legendary and longtime on-air personality Wanda Frank passed away this morning at the Genesee County Nursing Home.
Although a native of Lockport, Wanda will always be linked to Batavia. She spent the most of her 89 years in Batavia, 23 of them on WBTA as hostess of "Frankly Speaking."
Wanda served as executive director of the Genesee Arts Council for 10 years. For most of her life, she was involved in local theater as an actress and director, many years associated with Batavia Players.
Wanda left the air four years ago when her health began to fail. But well into her 80s she was interviewing community leaders, fellow actors, and promoting the arts.
Wanda had a quick wit and rarely shied away from speaking her mind.
In 1977, at the age of 51, she earned an associates degree from Genesee Community College, an accomplishment for which she was rightly proud.
She would later be named a Distinguished Alumna of GCC.
"Wanda was a colleague, a friend, and a character, who loved a good laugh. We'll miss her," said WBTA President Dan Fischer.
Arrangements for Wanda Frank will be announced later by the H. E. Turner and Company Funeral Home.