December 1, 2017 - 10:45am
Long dormant car wash on West Main gets new owner, undergoing complete renovation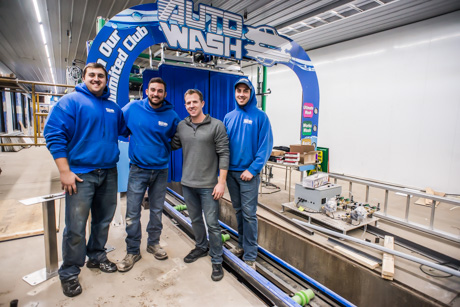 A third-generation carwash operator is breathing new life into a car wash on West Main Street Road, Batavia, that has sat empty and unused for years.
Bobby Marchenese, whose family has long operated a car wash in Canandaigua, said he and his crew are replacing all of the equipment in the car wash with the latest high-tech car-washing machines.
This is the fifth location for Marchenese. Besides Canandaigua, he has locations in Tonawanda and Geneva and will soon open a location in Auburn.
"We had our eye on the market for a while," Marchenese said. "We tried to contact the previous owner several times, no response, then we noticed the for sale sign one day so we called and we were able to put a deal together."
The location operates under the brand name Auto Wash and Marchenese believes he and his team will have the facility ready for its first wash within three weeks.
The car wash will be fully automated. When vehicles pull in, a computer will profile the vehicle's height so the wash area can be adjusted. This eliminates the need to hand-prep the car for the wash. The machines themselves are variable speed with soft starts. All of the lighting is LED.
"We will have the most energy-efficient car wash out there," Marchenese said. 
The end of the wash is fully automated, too.
"With the advanced technology we'll be using we won't actually towel dry cars,"  Marchenese said. "We have an automated drying system at the end of the car wash after the blowers, so that will dry the vehicle as it goes through."
Photo: Greg Farkas, Ryan Schmeer, Bobby Marchenese, and Zach Letta. Letta will manage the Batavia location.
December 1, 2017 - 6:28pm
#1
Looking forward to this opening. Long over due.