August 26, 2016 - 10:27am
Man who was found this morning near rolled over construction equipment has died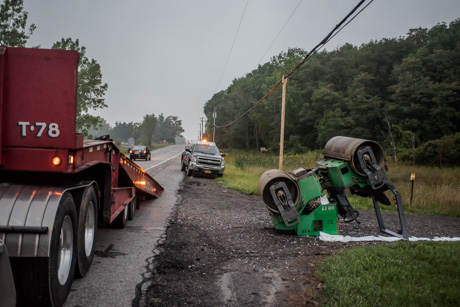 A man who was found early this morning unconscious next to a compacting roller has died, according to State Police.
Investigators suspect he died due to medical issues since there are no signs of trauma on his body, though head trauma, which wasn't visible, has not been ruled out.
The cause of death is pending a report from a medical examiner, said James O'Callahan, public information officer for Troop A.
The man was found next to the piece of heavy construction equipment around 5:30 a.m. on Route 20 about 1/4 of a mile west of Harlow Road.
The equipment was upside down next to a flatbed truck trailer that had apparently transported it to that location. The truck was parked on the north shoulder, the westbound lane, pointed eastbound.
The victim, whose name has not been released, was transported by ground ambulance to an area hospital while CPR was performed.
Darien fire and Darien ambulance responded.
There is no further information available at this time pending completion of State Police reports. The State Police will release the name and any additional information when the reports are complete.
UPDATE 12:24 p.m.: The driver has been identified as Aaron L. Wellman, age 40.