March 6, 2017 - 8:49pm
McCormick Family Dairy in Alexander honored for conservation efforts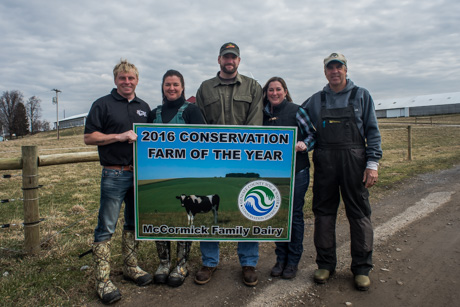 McCormick Family Dairy in Alexander has been named the 2016 Conservation Farm of the Year by Genesee County Soil & Water Conservation District.
About the award from Soil & Water:
This is a large family farm CAFO in the upper Tonawanda Creek watershed south of Alexander. Most of their land drains directly into Tonawanda Creek and the dairy farm itself is less than a mile from the Creek. Most of the drainage channels flowing from the steep hillsides above their lands are directly draining into the Creek.

With about 950 dairy cows, manure management has been a large part of their program for many years. They have tried several types of manure treatment and silage leachate collection systems. A large manure storage pit is located above the farm and manure is pumped to or hauled over land to it. It is over 50 feet higher and about 4,000 feet away. Some other practices they have employed include tile drainage, rotational grazing, zone building and rotational graze about 85 acres using more than three miles of fencing.

The McCormicks have been excellent stewards of the land and were chosen as this past year's recipients for their continued efforts at environmental conservation and sustainability.
Photo: Aaron Reichert, Jen Reichert, Tim Pohl, Michelle Pohl and Dan McCormick.