Image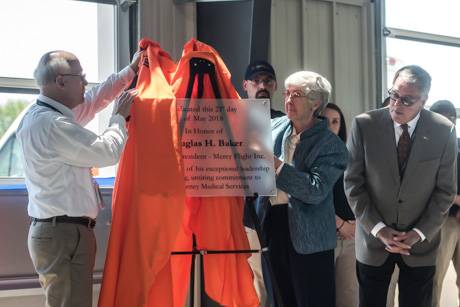 The dedication and ribbon cutting for the new Mercy EMS headquarters on Call Road, off of Route 98, in Batavia, was more than just a celebration of the new facility. It was an expression of gratitude for the Mercy Flight/EMS staff and chance to honor Mercy's cofounder, Doug Baker.
A plaque honoring Baker, pictured above, will be placed on the new building.
For his part, Baker thanked the Genesee County community for entrusting its emergency medical transport services to Mercy EMS and Mercy Flight.
"I'm here to you say thank you for the confidence and courtesy of the acceptance we've had in this community," Baker said. "From the governmental agencies, from the fire and the police, from the hospital, and from the whole community at large. And last but not least certainly the employees. We're very very lucky. Don't think we take it for granted. It's pretty special."
Mercy Flight became Baker's vision in 1981 and he, along with Sister Sheila Marie Walsh, Dr. Matthew Burke, and Dr. James Ehinger, came together to create Mercy Flight that year. It became the first helicopter emergency transport service in New York. The first helicopter based in Batavia was in 2006. In 2006, Mercy EMS became the designated ambulance service for the county.
Since then, the ambulance crew has operated from cramped quarters in the former St. Jerome's Hospital on Bank Street. The new facility not only gives them more space, it will offer better space for training and for eating and resting between calls, especially on long 12- and 24-hour shifts.
Bob Bausch, chairman of the Genesee County Legislature, was among those who congratulated Mercy Flight on its new facility.
"It's a true symbol of your commitment to the residents of Genesee County but more importantly thank you for what you offer day in day out," Bausch said. "You provided an exceptional level of service and this new facility will only enhance those services."
The dedication prayer was offered by Pastor Dan Dart, who noted Mercy EMS came to his aid once and he got to ride in "the whirlybird." He thanked the staff for their dedication to the health and safety of our community.
"Personally, then, on the receiving end, I say, 'Oh wow, I say thank you to all these folks for this building,' " Dart said. "It's going to help facilitate these folks to do the work that they do much more efficiently. It's a great, practical building -- all throughout, just amazing."
Image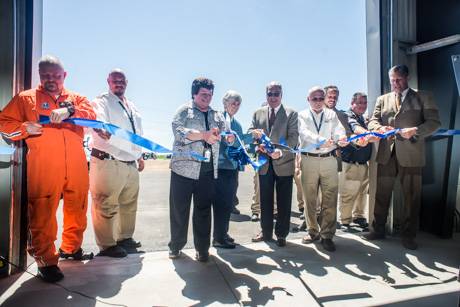 Image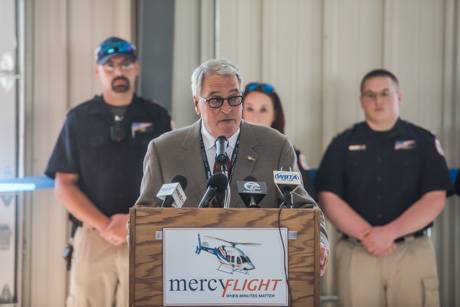 Doug Baker
Image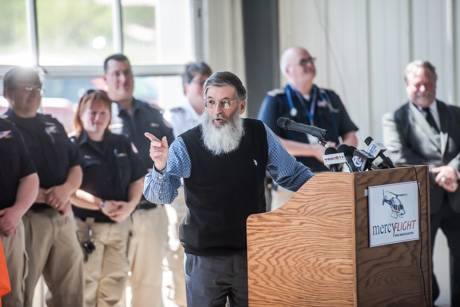 Pastor Dan Dart.