February 15, 2019 - 9:05pm
Mercy Flight transports injured person following accident on North Bergen Road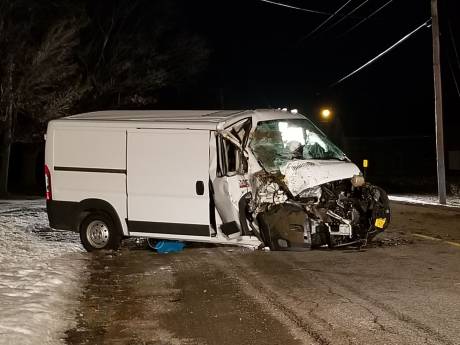 Two people have been transported, including one by Mercy Flight, from the site of an accident involving a manure spreader and a van in the area of 6385 North Bergen Road, Byron.
The county's Crash Management Team is investigating the accident.
Byron and South Byron volunteer fire departments are on scene. Bergen's ambulance also responded.
One person was reportedly entrapped in a vehicle following the accident and extrication was required.
UPDATE Midnight: A work van with two male occupants rear-ended a manure spreader on North Bergen Road that was returning to the farm after working a nearby field.
The spreader was equipped with reflectors, said Byron Chief Robert Mruczek.
The driver and the passenger in the van were transported to Strong Memorial Hospital, one by Mercy Flight.
A short extrication was required for one of the patients, Mruczek said.
The driver of the farm equipment was transported to UMMC for evaluation.
The manure spreader was barely damaged.
"It's a strong piece of machinery," Mruczek said. "It's very solid."
The Sheriff's Office is investigating the accident and the names of those involved have not yet been released.
Information and photos via Alecia Kaus/Video News Service.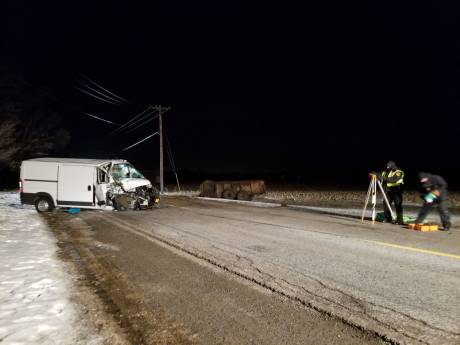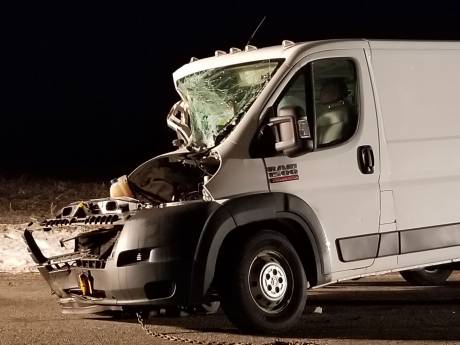 February 16, 2019 - 6:42am
#1
I know this is basically a rural farming community. But farm implements need more than reflectors if they are going to be on the public roads after dark. I was totaled years ago at the corner of Griswold and RT237 by a eight wheeled Stieger tractor running at full speed North on 237 without lights right at daybreak. It was semi dark and I didn't see him as I pulled away from the stop sign. He T boned me on the passenger side totaling my new F150 truck. I was the one that got the ticket.