May 21, 2016 - 2:41pm
Mercy Grove opens as banquet facility with fundraiser hosted by Le Roy Rotary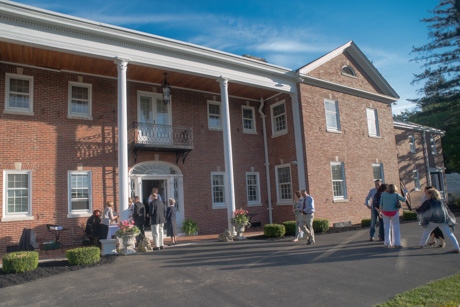 A Friday evening fundraiser organized by the Le Roy Rotary Club was also the opening of a new events center at Mercy Grove, the former priests home on a large estate at 7758 E. Main Road.
Owner James Gomborone has been renovating the facility for months and was finally ready to give it a first public showing for the Rotary event.
Mercy Grove will be a location for upscale weddings, community events, corporate retreats, retirement parties and rehearsal dinners, said manager Barbie Gozelski.
By next year, renovations on the second floor should be completed, and those rooms will be guest rooms and serve as a possible setting for a bed and breakfast.  Cabins on the 53-acre property will serve, when renovated, as bridal suites or guest rooms. 
The facility is just across the road from the Le Roy Country Club, which Gomborone also owns.
"Graze to Raise" was hosted by Le Roy Rotary as a fundraiser for the R.E.A. Milne Scholarship Fund.