May 25, 2018 - 3:20pm
More than 20 fights, including title bouts, on Batavia Downs first MMA card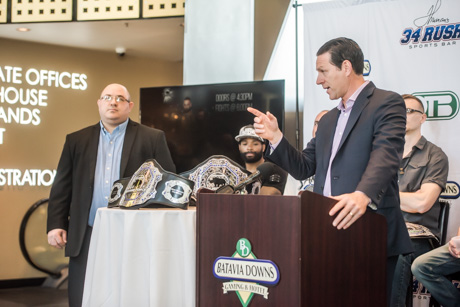 Promoter Richard Mitchell, of Ground Force Fights, is promising an exciting night of mixed martial arts fights June 23 at Batavia Downs.
"It's going to be fun," Mitchell said at a press conference at Batavia Downs this afternoon. "Be prepared to be excited the whole night and to be on your feet. It's going to be going to be 20 plus exciting fights."
Local fighters on the card for that night include Matt Norstrand, Le Roy, Quentin Marozzi, Caledonia, Tim Shelby Le Roy, Brandon Sarkis, Pavilion, Kenny Hale, Jake Hixenbaugh, and Grady Wall, all from Bergen, and Steven Kleckler, Batavia.
Though the card isn't limited to just local fighters.
"We also have fighters come from all over the world, actually," Mitchell said. "We have about six different states represented and we have a team coming from India to fight on the card."
With the marketing power of Batavia Downs behind the fights, Mitchell said he expects the fighters participating will grapple in front of twice as many fans that the three previous Ground Force-promoted events.
Batavia Downs hosting an MMA event is just giving the venue's patrons what they want, said Henry Wojtaszek (speaking in the top photo), president and CEO of Western OTB.
"We have a lot of the UFC fights here (on TV) and it's a place where people come locally to watch the sport," Wojtaszek said. "We were introduced to Richard and we're very impressed with his organization and his ability to put this card together and so we're very happy to partner with him.
"We've watched the growth of MMA here in New York State and it's very, very popular and we're giving the people what they want to see here at Batavia Downs."
One of the local fighters, Norstrand, who stands at 4-1, will be defending his division's title and he's grateful for the chance to do it in front of a big crowd.
"I've got a long history of trying to fight in New York and with them finally lifting the laws against it, it has helped me out immensely," Norstrand said. "I've got a bunch of fights within the last year and a half and Rich has been a great help and good in lining up fights and good fights for me.
"I'm happy to be here part of a new event for him and a new place to do it. All of my fans are definitely excited to be here."
Marozzi is going to try and grab the title at the 135 pound weight class. He plans on this being his last amateur fight before turning pro.
"I've been training really hard for the last eight months, really focused on being undefeated in this weight class of 135-140, so I really look forward to going back to my class of 135 to show people that first, I've been training, and second, to get this pro going," Marozzi said.
"This is supposed to be my last fight before I go pro, so I'm really trying to bring the heat and show the skills my coaches have put into me."
(For yesterday's press release on the June 23 MMA event at Batavia Downs, including ticket prices, click here.)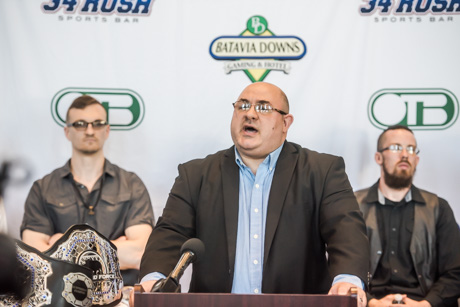 Richard Mitchell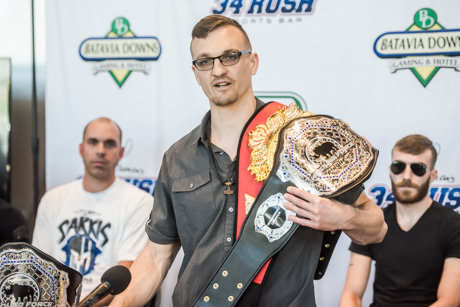 Matt Norstrand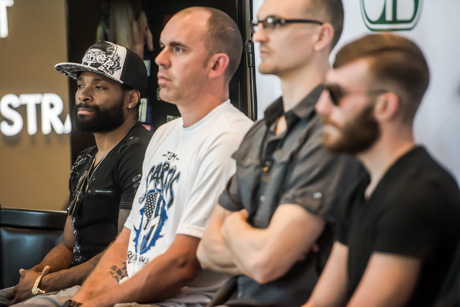 At far left is Quentin Marozzi.
Nice, thanks Howard & Billie. Should be a great night!