September 22, 2016 - 5:12pm
Motorcyclist reportedly falls off bike on Thruway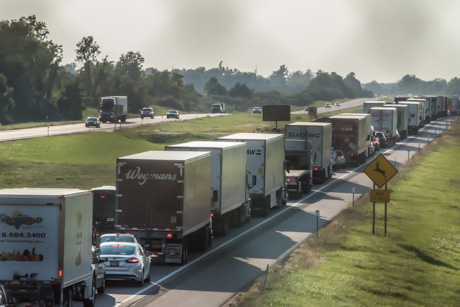 A motorcyclist reportedly fell off of his bike in the westbound lane of the Thruway in the area of mile marker 394.9.
East Pembroke fire and Mercy EMS responding.
Mercy Flight out of Batavia on ground standby.
UPDATE 5:13 p.m.: Town of Batavia fire requested to the scene for a possible landing zone.
UPDATE 5:22 p.m.: Fire police are going to shut the westbound Thruway down to accommodate Mercy Flight #7, which is called to the scene. Mercy medics are called also.
UPDATE 6:02 p.m.: Town of Batavia is back in service. Two patients are being transported by Mercy EMS to UMMC.
September 23, 2016 - 10:35pm
#4
The post is slightly wrong.
I came up on the scene while on my way home from work. Two other bystanders and myself began working on the passenger of the motorcycle until Mercy arrived. The passenger was actually Mercy Flighted to ECMC and unfortunately passed away due to the extent of her injuries. The Rider/driver was transported to ECMC via ambulance with non life threatening injuries. Very sad that she passed away.
Irene, in response to your post about the many accidents that have happened in this stretch...
I truly think that part of it has to do with the fact that there is a pretty good distance there until the next U-turn. Since U-turns seem to be where most Troopers sit to radar the traffic I think people tend to speed through this area, pass on the left, etc. since they know there is probably not going to be a Trooper doing radar in that area. I could be wrong but, I travel the 90 to Buffalo M-F and people do tend to go pretty fast through that area. Just my thoughts.