May 3, 2018 - 12:31pm
New Mercy EMS headquarters about ready for move-in day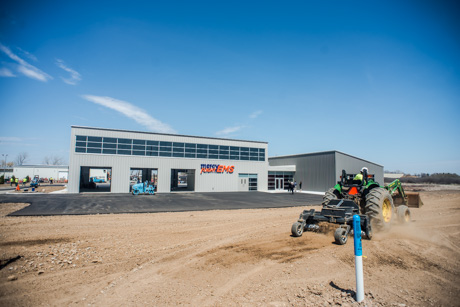 A new, spacious headquarters for Mercy Flight/Mercy EMS will serve as a much-needed home away from home once the ribbon is cut on the new facility off Route 98 in Batavia on May 21.
"I'm looking forward to the crews being able to move into a home," said Bill Schutt, business development manager for Mercy EMS. "That was the whole gist of this thing --  give them a home while they were at work.
"They spend a lot of time here. They spend a lot of shifts here. They spend a lot of time together, probably more so than families. Holiday time when we're home enjoying our family, they're here still working."
The 12,000-square-foot facility has bays for ambulances in half the space and the other half contains offices, storage, showers, a workout area, a day room, a quiet room, a kitchen suitable for crews to enjoy meals with their families, and a large conference room.
"The space is large enough to house the ambulances, keep them out of the weather and to provide everything the crews need throughout their 12- or 24-hour shifts," said Scott Wooton, VP of finance for Mercy Flight. "If they're here for a 24-hour shift, they need to be able to prepare food. They need to be able to wash their uniform if they come back from a call where their uniform is soiled.
"They need to be able to rest. They need to be able to sit down and chart stuff. This has been a need right from the start. It's only that it's taken nine years for us to put all the pieces together and make it happen."
The $2.5 million facility was largely financed through assistance from M&T Bank and the Genesee County Economic Development Center, which was able to provide tax-exempt financing.
That assistance was critical to making the new building possible, Wooton said.
"We certainly don't have that much cash on hand so we couldn't do it without the financing and being able to do it in a tax-exempt way keeps that interest rate more manageable for us and spread it out in a way that the monthly payments are more manageable," Wooton said.
David Ciurzynski, business development manager with Manning Squires Hennig, said one of the key features of the new building is its energy efficiency. The large garage doors that are all glass will allow a lot of natural light into the ambulance bays and all lighting throughout the building is LED. The energy efficiency will help Mercy EMS reduce its operating costs.
The pre-engineered building also helped reduce costs and accelerate construction time.
"We were able to keep the construction period tight so they can get in and get it in use as quickly as possible," Ciurzynski said. A pre-engineered building allows you a lot of flexibility on time because components come quickly but it also gives you a very handsome building they can use for years to come and it's exapandable."