October 28, 2018 - 9:04pm
OA-Elba wins eight-man football sectional championship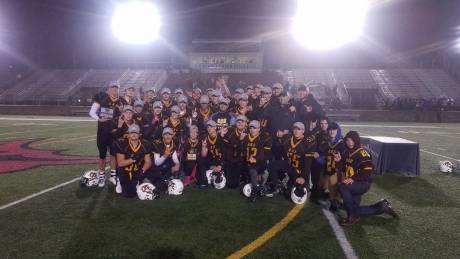 Photos and write up provided by Mike Cintorino, OA-Elba head coach:
The OAE Football team defeated the CG Finney/Northstar Falcons 55-2 on Saturday night at St. John Fisher College to win the first ever Section V 8-Man Football Championship.

OAE wasted no time, scoring on the first play from scrimmage with a 60-yard run by sophomore Ty Mott, his first of two scores on the night on his way to 160 rushing on only seven carries. Colton Dillon continued his dominance, with 4 rushing touchdowns, all in the first half, on his way to 132 yards rushing on just seven carries. Sophomore Jayden Hughes also had a big night with 104 yards rushing on just four carries, including an 82-yard touchdown run in the third quarter. Ty Kropelin added the other score for the OAE Football team who remains undefeated for the season and are ranked #4 in New York State.  

The defense once again held strong holding the Falcons out of the endzone, with their only points coming on a safety late in the game. Sophomores Ty Mott and Peyton Yasses each had 15 tackles while Nick Munger, Jayden Hughes, and Nick Wissinger all had interceptions. Gage Dieterle had four tackles for a loss including two sacks on the night. The OAE team had six total sacks total and forced four turnovers on the cold rainy night.  

Maalik Thomas led the way for the Falcons with 186 yards on 29 carries.  

The Weedsport Warriors will face off against Altmar-Parish-Williamstown in the Section III Championship game next Saturday at the Carrier Dome in Syracuse. OAE will now face off against the winner of that game for the first ever Upstate New York Championship game on Saturday, Nov. 12th, at 12 p.m. at Pittsford Sutherland High School.