November 5, 2022 - 4:21pm
OAE wins 40-6 in Class D semifinal over York/Pavilion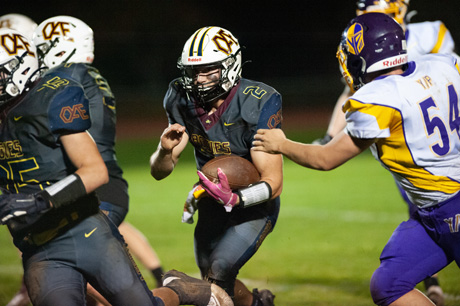 The Oakfield-Alabama/Elba Aggies beat York/Pavilion in a Class D Section V semifinal on Friday, 40-6.
Bodie Hyde gained 174 yards on 14 carries. He scored three touchdowns. Noah Currier had 153 yards rushing on 15 attempts and scored three times.  
On defense, Brayden Smith, 10 tackles. Angelo Penna, five tackles and a sack. Hyde had five tackles. Currier and Scott each had an interception.
The win sets up a Genesee County shown between two unbeaten powerhouses, the Aggies and the Alexander Trojans, for the Class D championship.
Avery Waterson completed his 65th successful point-after-attempt of the season, a new Section V record.
Head Coach Tyler Winter said, "I'm excited for our team and these communities now that we are returning to sectional finals.  We will enjoy this win tonight, but I know I am speaking for many in our corner when I say the preparations for next week's game will be immediate.  We're just excited for the opportunity to compete for championships."
Photos by Kristin Smith.  For more photos, click here.