November 11, 2018 - 9:21am
Oakfield-Alabama/Elba becomes first-ever Upstate eight-man football champions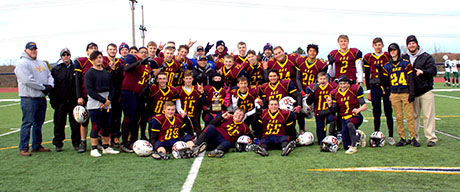 Article by Mike Cintorino, OAE head coach.
The Oakfield-Alabama/Elba Football Team completed a perfect season on Saturday, finishing 8-0 and defeating the Weedsport Warriors 48-6 in the first-ever New York Upstate Championship in Eight-man Football. 
Once again it was the defense, as it has been the last three games for OAE, that truly set the tone for the day. 
After an opening offensive drive stalled for OAE, the defense got the ball right back after a 3 and out. 
Colton Dillon, Section V Offensive Player of the Year, scored the first three touchdowns for OAE. Dillon finished with 128 rushing yards on 13 carries with scores of 2, 6 and 61 yards. 
Gage Dieterle (Section V Defensive Player of the Year) added to his resume, earning MVP honors for the game. Dieterle only carried the ball six times but ran for 119 yards and for two big scores with runs of 50 and 35. 
Ty Mott continued his strong season with 21 carries for 158 yards and a 44-yard touchdown. 
On the defensive side of the ball, Peyton Yasses led the team with 13 tackles while Dieterle had five tackles with two sacks, one forced fumble, and two fumble recoveries. Mott and Ty Kornow both came away with interceptions. 
For the third-straight game, the OAE defense held the opposing offense out of the end zone. Weedsports lone score came on a 60-yard kickoff return by Hunter Morgan for a touchdown to open the second half. Jake Maloof led the Warriors with 87 yards on 13 carries.  
This has been an unbelievably successful season for the OAE team. The team overcame adversity with the switch to eight-man, learning to apply everything they have done in 11-man and apply it to this new opportunity. The team is 8-0 on the season, League Champions, Section V Champions, and NY Upstate Champions. 
Photos by Cindy Cassada .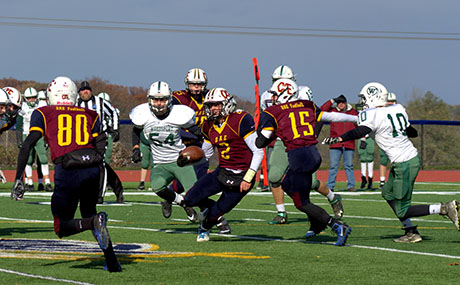 Colton Dillion, #2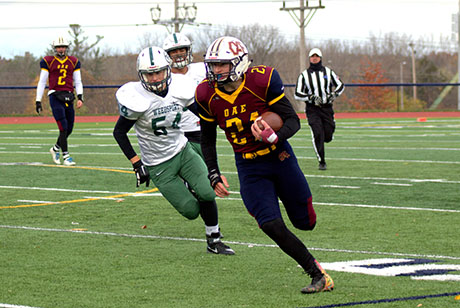 Gage Dieterle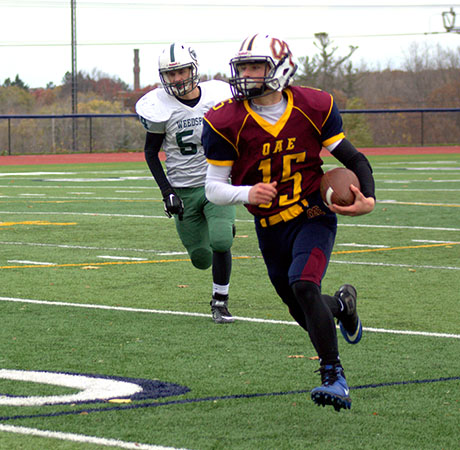 Ty Mott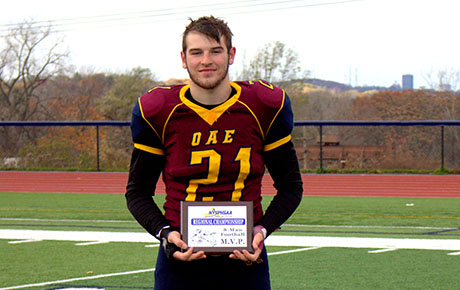 MVP Gage Dieterle