April 18, 2018 - 10:21am
Once all the evidence is in, DA will face decision on whether to have Log Cabin shooting case reviewed by grand jury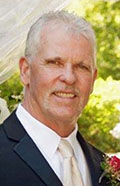 Keith Kent
In the next few weeks, District Attorney Lawrence Friedman will need to make a decision he's never had to make in his more than 36-year career as a prosecutor: whether to send a case involving the police shooting of an armed suspect to a grand jury for review.
Friedman has not yet seen all the evidence in the incident at the Log Cabin Resturant in Indian Falls a week ago and said he won't make a decision about presenting the case to a grand jury until State Police investigators bring the completed case to him.
A week ago, officers were dispatched to the Log Cabin for the report of a disturbance at the restaurant followed by additional reports of shots fired. Upon their arrival on scene, Keith A. Kent, 61, of Albion, reportedly fired another shot. Officers yelled at Kent to drop his weapon. At that time, according to information released so far, Kent turned toward Deputy Ryan Young and may have pointed his handgun at the officer. Young shot and killed Kent.
State Police investigators have witnesses to interview, body camera video to review, ballistics and forensic evidence to examine. If all of that supports the version of events released by law enforcement so far, that would seem to point to a justified shooting.
Even if that is the case, Friedman said, a grand jury could still be asked to review the evidence.
Asked several different ways to try to explain how he will reach a decision on whether to bring in a grand jury on the case, Friedman chose his words very carefully. He wanted to be clear that he hasn't made that decision yet and did not want to say anything that would make it sound like he had made that decision.
"I'm not holding back," Friedman said. "I have not decided which way we go between those options."
He said some District Attorneys in other jurisdictions always send cases such as this to a grand jury. Others make a decision themselves on a case-by-case basis.
"We don't have a policy of how we handle these cases because there's never been one, thankfully," Friedman said.
The last time a police officer in Genesee County shot another person in the line of duty was 1977 when Batavia PD Officer Douglas Squires shot and wounded William Timoney during a robbery of a convenience store on Oak Street.
Friedman praised local law enforcement for their professionalism and restraint in not firing their weapons at suspects in recent years even though in several instances it appears such a shooting would have been justifiable. 
One of those involves Deputy Young, who was a Le Roy police officer when dispatched to Selden Road after a report of a man being shot in the head. That was on Dec. 1, 2015. When he arrived on scene an alarm came in for a house fire a few houses down the road. As he pulled up, Kyle Johnson fired a rifle in the direction of Young and a fire chief. Young took cover and provided information about the location of the shooter as other officers arrived. Johnson wandered up and down Selden Road for hours, sometimes pointing his weapon in the general direction of police officers. He was eventually taken into custody with no further shots fired.
At Monday's Public Service Committee meeting, Chairwoman Shelly Stein commended Undersheriff Gregory Walker on the department's handling of the situation at the Log Cabin.
"On behalf of the whole Legislature, I want to commend you, your department for keeping everyone safe, getting everyone home. It's really a credit to the department."
Walker said after the meeting that Young remains on a paid leave of absence and it will be up to him to decide when he's ready to return to work. He is being provided support and assistance from the department.  
"He's doing as well as expected under the circumstances," Walker told the county legislators.