January 15, 2017 - 5:02pm
Owners of Smokin' Eagle promoting their own brand of beer, Rogers Beer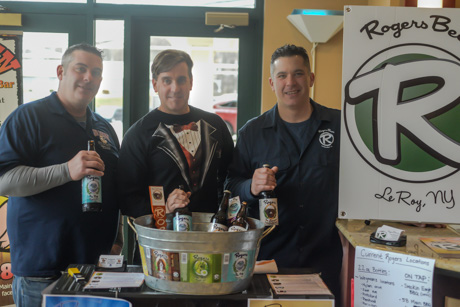 Marc Marcello, Jay Beaumont and Jon Marcello, owners of the Smokin' Eagle BBQ & Brew in Le Roy were at the bridal show at Terry Hills today with their microbrew, Rogers Beer.
The story of Rogers Beer begins about seven years ago with Al Rogers, a brewer in Rochester who started his own brewery, eventually selling his beer in 12 Wegmans and 30 bars and restaurants in the region.
After the birth of a second child, he needed to give up his sideline business and he walked into 58 Main in Brockport and told Marc Marcello he was giving up the business.
"He delivered the news he was walking away from it and my brother wouldn't take that for an answer," Jon Marcello said. "We got together and over a few lunch sessions with Jay and Marc, we put an offer in and he accepted. A few days later he called and asked if he could stay on a brewmaster and we told him, 'we don't know how to make the beer, so that's perfect.' "
Rogers Beer is now based in Le Roy, though the beer is currently brewed at a facility in Honeoye Falls, but Jon said the goal is to build up the business enough to open a brewery in Le Roy.
The beer is made with 20-percent New York ingredients with the goal of achieving 100-percent New York-grown ingredients within five years.
The five flavors of beer are all on tap on the Smokin' Eagle and at 58 Main and 22-ounce bottles can be purchased for carryout. 
The dog icons on the menu below were all drawn by a local artist featuring dogs from Le Roy.
There will be a kickoff party sometime in February at the Smokin' Eagle for the newly based in Le Roy Rogers Beer. Watch The Batavian for details.