March 26, 2017 - 8:00am
Part 3: Trump, trade and the local economy
China and robots
This is part three of an eight-part series on trade and how changes in policy might affect the local economy.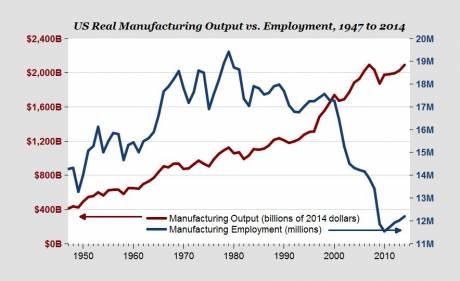 Times change, Congressman Chris Collins argues. He doesn't dispute that for the later half of the 20th century, a regime of trade agreements and more open trade worked well for the United States, but we no longer live in the same post-war world that forged those instruments of trade.
We face competition from China that presents a unique challenge to U.S. economic dominance, and automation is eating jobs the way tornadoes tear through trailer parks.
"We went from an agricultural economy to an industrial, production economy and now through automation, we have fewer jobs," Collins said.
We don't know the future, he said, but "where are these people going to work if we don't make stuff? We need to have opportunities that others don't have."
The American Dream (a term first coined by historian James Truslow Adams in 1931) is an ethos founded on the idea that we are a country that makes stuff.
We are builders. We are factories. We are smokestacks and train tracks and men with lunch buckets and lug wrenches. 
The perception that Trump campaigned on is that the American Dream ain't what it used to be. Economists disagree over whether that's true. While over the past 30 years a greater share of income earned has gone to the nation's richest 1 percent, there's evidence that suggests it's still possible for the poor and middle class to move up the economic ladder.
The balance between income inequality and economic mobility is a matter of debate. For those who perceive a problem, the question is who or what to blame.
Trump found ready targets in China and trade deficits.
"We can't continue to allow China to rape our country, and that's what they're doing," Trump said during his campaign. "It's the greatest theft in the history of the world."
While campaign, Trump said the trade deficit with China was either $400 billion and $500 billion. For 2016, it was actually $347 billion.
Economists debate how much impact China has had on U.S. manufacturing jobs since the country of 1.4 billion people joined the World Trade Organization in 2001. On one hand, while the United States has lost five million manufacturing jobs since then, actual factory output has increased at the same time; however, the Economic Policy Institute reports that the rise of China as a global economic power has displaced 2.7 million workers, including 2.1 million in manufacturing. 
China may pose a different kind of challenge for the U.S. economy than we've faced before, but it isn't clear the Trump Administration has come up with a strategy beyond slapping tariffs on every Chinese import.
The big worry among economists is that Trump's rhetoric, let alone actual tariffs, will spark a trade war. The man Trump hired to oversee the National Trade Council, Peter Navarro, is regarded as being ideologically opposed to China.
Even though the local economy has few direct ties to China, how the country's trade policy goes with China will have an impact locally.
To the degree that trade with China matters in Genesee County, it matters more to consumers and farmers than manufacturers. For consumers, trade with China means money saved on gadgets and consumer products. For farmers, China is a big part of world consumption of food, especially grain, so even if local corn and soybeans are never shipped directly to China, the price farmers can get for these commodities is based on worldwide prices and the strength or weakness of the dollar. 
The manufacturers we interviewed said, for the most part, they don't trade much with China nor do products from China directly compete with their own products.
For Batavia-based Chapin Manufacturing Inc., the biggest worry is how China handles protection of intellectual property, according to CEO Jim Campbell.
"Individual companies in China ignore our U.S. patents so we have to defend them most vigorously," Campbell said. "We go head-to-head with China in the Pacific Rim area, mostly in Australia and New Zealand. China has a significant advantage in freight costs to these areas over us in Batavia."
Trade with China is minimal for Graham Corp., said Jeff Glajch, vice president and CFO for Graham Manufacturing in Batavia. There are some parts Graham imports from China, but it's not a significant piece of the business, he said.
If there were new trade barriers with China, it wouldn't have a major direct impact on Graham, he said.
"In the big basket of all the changes, I don't think it would cause us significant harm," Glajch said.
Any new difficulty in trade with China might have a bigger impact on Liberty Pumps, but CEO Charlie Cook didn't express much concern, though he said it's still too soon to say what might be coming that will change foreign trade for his company. China has been an area of company growth, he said, with sales growth of about 12 percent, which is a bit higher than companywide growth.
When it comes to trade and China, one of the more interesting stories in local manufacturing is p.w. minor, a company with a 150-year local history that late in its history moved much of its production to China before nearly going out of business two years ago. Then Pete Zeliff and a partner bought the company's assets and Zeliff went to work repatriating that factory work to Batavia.
But the twist here is that one reason p.w. minor could start making all of its own shoes again is automation.  
And what Zeliff did isn't unique these days in American manufacturing. It's called "reshoring."
Three years ago, fewer than 100 companies were known to have reshored manufacturing, but it's been a growing trend. One of the more interesting recent examples was highlighted by CBS Evening News a couple of months ago -- a bicycle company that is owned by a Chinese billionaire.
Zeliff sees a future U.S. manufacturing sector that is large enough to accommodate a robust workforce, even if there are fewer jobs per square foot. Trade barriers will help make that happen, he said.
"We'll still have jobs, more high-tech jobs to run and program and maintain these robots and things," Zeliff said. "We'll have less low-tech jobs and more high-tech jobs."
That's a view of the future shared by Collins. If there are going to be fewer manufacturing jobs, all the more reason to make sure those jobs stay in the United States.
"Times do change," Collins said. "It's a different world we live in now."
GRAPHIC: The chart shows the decline in U.S. manufacturing jobs since the 1940s while production output has continued to increase. Economists say this trend is the result of machines replacing more and more manual labor. It is a trend that accelerated in the 21st century as computers came to play a greater role in manufacturing.
Previously:
March 26, 2017 - 1:14pm
#1
"We can't continue to allow China to rape our country".... he really say that? rape our country?..... I am amazed at the mans vocabulary or lack of... to use a word that describes a sexual assault in a trade analogy is awful.... chris Collins would you please tell your buddy, the leader of the free world, what the word.. rape.. means.?
March 26, 2017 - 2:40pm
#2
David. I would hope that you knew that the word 'rape' doesn't always carry a sexual connotation.
A definition from https://en.oxforddictionaries.com/definition/rape include: The wanton destruction or spoiling of a place
And, the first 10 definitions of 'rape', from http://www.thesaurus.com/browse/rape are: abduction, abuse, pillage, plunder, maltreatment, molestation, violation, depredation, despoilment, despoliation.
While I certainly don't condone everything Donald Trump says (who would, or, could?), your response to his usage of the word 'rape' brought to my mind the memory of a story from http://www.webpronews.com/senator-says-niggardly-2012-03/
The article is about the use of the word niggardly.
Three excerpts from that (2012) article read:
[On Thursday, Senator Sherrod Brown (D-Ohio) used the word in response to a question about spending for veterans. He said, in part: "Of course we're falling short," he said. "There are people, as you know Matt, in this Congress who will always send a blank check when it comes to spending money on defense or war, but are a little more niggardly, if you will, on spending money on the actual veterans when they come home. And that means we don't greet them well enough in terms of getting them the right testing when they're back in Coshocton, Cleveland or Lima, Ohio."]
(And) ["In 1999, David Howard, an aid to Mayor Anthony Williams in Washington, DC resigned after coming under fire for using the word. His resignation was accepted.... The mayor was later shown the meaning and etymology of the word and realized he had been misinformed by a bunch of offended sophomores. He rehired Howard and apologized."]
(And, finally) ["In 2002, A fourth-grade teacher in North Carolina was formally reprimanded by the school when an African-American parent was offended by her use of the word in class. A formal letter was placed in the teachers file, accusing her of not being sensitive to the diverse school population and directing her to not use the word again.... The teacher was forced to apologize to the parent for teaching her students a perfectly innocent English word with no racial connotations."]
Maybe is (partly) due to the "dumbing down of America". But, let's face it. Nobody (that I'm acquainted with) knows EVERY word, nor (probably) EVERY meaning of every word that they DO know. Perhaps people should become better acquainted with the old adage, "Look before you leap!".
Maybe we should come up with a new saying: How about, "Know before you NO"?
March 26, 2017 - 5:05pm
#3
Ed, you are absolutely right.... I did not look up the word before I posted. I did think that I should research before I hit the enter button but I felt confident I knew what I was talking about...I do apologize..... with that being said I don't believe I will use the word in context other than what most of us are familiar with.......