November 30, 2018 - 5:28pm
Pavilion man accused of dealing fentanyl, allegedly in possession of heroin at time of arrest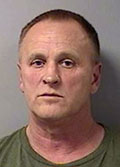 Jack Benson
A 60-year-old Pavilion man has been arrested and accused of illegally selling fentanyl in Genesee County.
Jack E. Benson, of St. Mary's Street, Pavilion, is charged with three counts of criminal sale of a controlled substance, 3rd, and criminal possession of a controlled substance, 3rd.
Benson was taken into custody on an arrest warrant stemming from a sealed grand jury indictment following a traffic stop this afternoon in Stafford.
He is accused of selling fentanyl to an agent of the Local Drug Task Force on three different occasions. 
At the time of the stop, he was allegedly in possession of 24 doses of heroin and $1,300 in cash. 
Jolynn M. Gorski, 38, of Batavia, was reportedly a passenger in Benson's vehicle at the time of the stop. She was allegedly found in possession of drug paraphernalia and charged with criminal use of drug paraphernalia.
Benson was arraigned in County Court by Judge Charles Zambito and ordered held in the Genesee County Jail without bail. 
Additional charges are pending.
The arrest was the result of an investigation by the Local Drug Task Force. The task force was assisted by Batavia PD and the District Attorney's Office.