December 1, 2015 - 4:08am
Person reportedly shot at residence in Town of Le Roy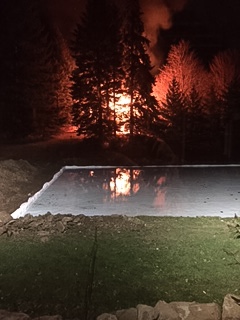 Law enforcement and Mercy medics are responding to a residence on Selden Road in the Town of Le Roy where a person has reportedly suffered a gunshot wound.
A dispatcher advises that "the victim has been shot in the face. The suspects appear to have left the area."
UPDATE 4:10 a.m.: It's described as a "marauding incident" (which Merriam-Webster's dictionary defines as "roaming about and raiding in search of plunder.") Further law enforcement communications have been moved to a secure channel.
UPDATE 4:18 a.m.: Now there is a report of a structure fire at a residence near the original caller's address. Smoke and flames showing. Le Roy fire and Bergen fire dispatched. Of course, at this point, it's unknown if the incidents are related.
*** We're withholding the address pending more complete information and to avoid identifying the victim at this stage.
UPDATE(S)(By Billie) 4:28 a.m.: "Shots fired. Back out of the area," the fire chief on scene tells responders. Stafford and Pavilion fire departments were also called to the fire.
UPDATE 4:41 a.m.: Le Roy Fire Police are instructed to shut down Selden Road at Route 19 and at West Bergen Road. Only emergency responders and law enforcement will be allowed to pass.
UPDATE 5:08 a.m.: Flames are no longer visible at the scene of the structure fire, however firefighters have not yet been allowed to access the property because law enforcement has not cleared the scene. An emergency command center, or staging area, has been set up at the Eastern Carolina, LLC, complex at 7591 Selden Road, near Route 19. (The gunshot incident and the fire are roughly a block apart on Selden Road.)
UPDATE 5:34 a.m.: People on Selden Road are ordered to "shelter in place," according to an order given by law enforcement. They must remain inside until further notice.
UPDATE 6:17 a.m.: A reader who lives on Selden Road said he "came outside when I first noticed the fire and a police officer told me to get back in the house and there was an active shooter. Soon after, there were two loud gunshots, sounded like a shotgun. ... The fire is still blazing pretty good on the west side of the house closest to me. No firefighters on scene, assuming they have not found the shooter (s). ..." This reader also submitted the photo above.
UPDATE 6:58 a.m.: A woman who has identified herself as the daughter of the shooting victim has told the media that her 69-year-old father has died as a result of the gunshot wound(s). Police have not confirmed this.
UPDATE 7: 22 a.m.: Photo from the scene: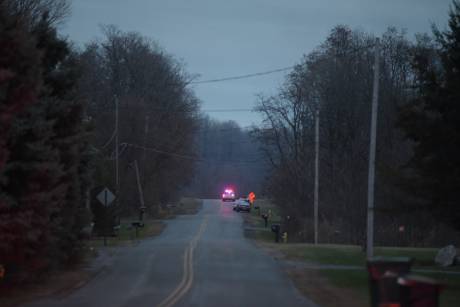 UPDATE 8:14 a.m.: Multiple law enforcement units have cleared the scene; they've left the area. It has not been confirmed, but indications are that the situation has been resolved, that the incident has concluded.
8:32 a.m.: A suspect has been taken into custody.
December 1, 2015 - 7:07am
#1
Prayers for the safety of our first responders and the man who a was killed.