March 4, 2022 - 5:59pm
Photo: Local resident protests Putin's invasion of Ukraine outside City Hall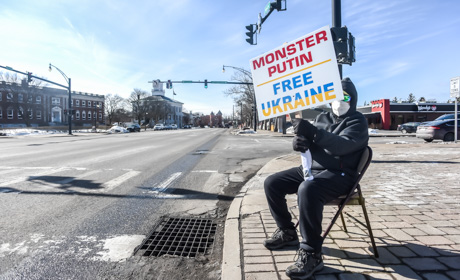 Tony Pecora spent the day in front of City Hall in Downtown Batavia calling it as he sees it: "Monster Putin Free Ukraine."
He had no trouble explaining his protest:
"Well, if you really want to know the reason is because over there, they're human beings just like us," he said. "But they're losing their children. They're losing their wives. They're losing their husbands. It's a terrible, terrible thing. And people over here, I mean, I hear people blowing the horns and thanking me, and that's fine. But there's a lot of people that just don't care. It's over there, let them go, and what I got here is fine with me. You can't do that. You just can't do that because if we weren't in NATO, it might happen right here. And then what are the people going to do?
"I mean, it's a terrible situation over there. And people are getting killed for what? For this idiot that thinks -- he's a despot, a horrible, horrible person.
"This thing shouldn't be going on. It is an awful, awful thing.
"I've got four children, and they're all with me. They stand with me. One is in Minnesota. One is in Virginia. I got two in Buffalo. And they're beautiful children, and they feel the same way. And I think people should stop and think about what's going on over there. They don't realize it's a terrible, terrible situation."