October 14, 2016 - 11:59am
Photo: New Dunkin' Donuts construction begins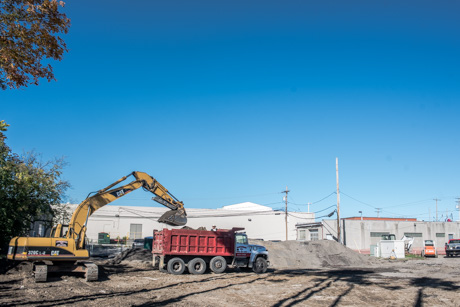 Construction began this week on the new Dunkin' Donuts location on West Main Street, Batavia. The location is on the south side of the street, across from Redfield Parkway and next to Barrett's Batavia Marine.
October 20, 2016 - 1:39pm
#16
Touché, Daniel.
As to not to leave you out of the understanding of the "touché" response, Daniel, I'll try my best to wind my way (circuitously, of course - which is my way) to the explanation of it's use.
Bizarre comments? Bizarre comments?
When I comment on this site, or, most sites, I try my best to relate my responses using 1 of 2 characteristics: (1) on the original subject matter; (2) on other comments posted.
I did that very thing in (each of) my comments on this thread. As I found the "original subject matter", a new Dunkin' Donuts, not that interesting OR earth shaking, I opted for using characteristic #2 (other people's comments) as the basis for my posts. (I responded to Frank's, then, later, to Howard's comment.)
You're probably correct in your diagnosis. I probably do exhibit (some form of) Derailment (thought disorder).
As I read through the different characteristics of "Derailment (thought disorder)", from the link you provided, I self-diagnosed myself as suffering, most likely, from "knight's move thinking" (which is described as "... creativity,... a similarly loose association of ideas, it is not considered a mental disorder or the hallmark of one; it is sometimes used as a synonym for lateral thinking.)
That's me, Daniel. A lateral thinker. No two ways about it. I'd much rather think laterally, than I would want to be thinking on a single plane (which could be described as a "plain" thinker - who'd wanna be a "plain" thinker?)
Which brings me back to the touché remark (and how I came to use it).
Touché, among other things, is a term used by participants in the art of fencing. Fencing (as people my age learned from Errol Flynn, et al), was common during the times of the "knights of olde". And, as I believe I probably do (suffer? - I don't consider it suffering) from a slight form of "knight's move thinking", I chose using the term " Touché".
How's that for a "roundabout", Daniel? Much better than the one proposed for the intersection of Rt.77 and Ledge Rd., wasn't it? (see how much fun "Derailment" can be?).
Have a good day, Daniel!