November 25, 2017 - 3:31pm
Photo: Ribbon-cutting celebration at Batavia's Original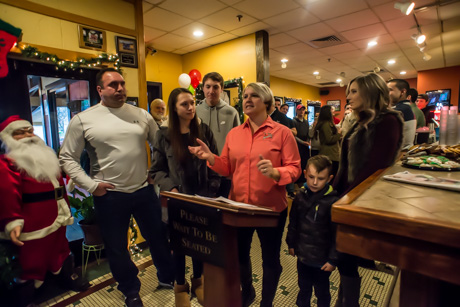 Kathy Ferrara, with her husband, Dan, children Marygrace, Daniel, Ashley, and grandson Brently, celebrated her purchase of Batavia's Original earlier this week.
After thanking the community, employees, and her family for their support, there was a ribbon cutting outside.
Previously: Batavia's Original, formerly Pontillo's, returns to local ownership
Note about the ribbon-cutting pictures. I messed up and forgot to change my camera settings when we shifted from inside to outside, so my ribbon-cutting photo was overexposed. Below there is a picture from the Kelly Birmingham of the Chamber of Commerce, and my photo in black and white.