September 22, 2016 - 6:59am
Photo: Ribbon cutting for Made in America Store at Batavia Downs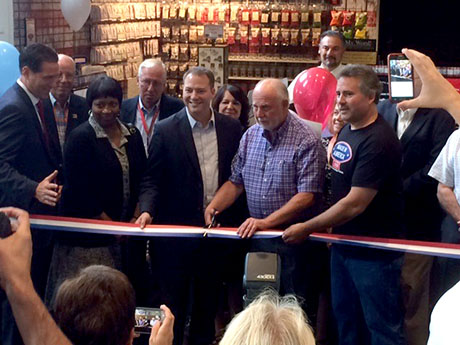 A big crowd on was on hand, including Nashville recording artist Ricky Lee, for the ribbon cutting of the Made in America Store at Batavia Downs on Wednesday.
Founder of the Made in America Store, Mark Andol, said that the idea began to develop quickly after the key players converged in July of this year.
"I'll tell you Ricky Lee, a sponsor of us, ambassador of Made in America Store for six years actually, you know, me and Mike Nolan (Batavia Downs executive) and Rick had been talking about different things, and Thurman Thomas is kind of an ambassador. Tie in Rick with the music and one thing led to another. I mentioned to Mike 'why don't you put a store in here?' he said 'I would if I had a store' and one thing led to another and here we are today."
For more coverage of the opening, visit WBTAi.com.
Photo and information from our news partner, WBTA.