February 5, 2018 - 12:50pm
Photo Tour: Owners of Eli Fish Brewing pushing for March 1 opening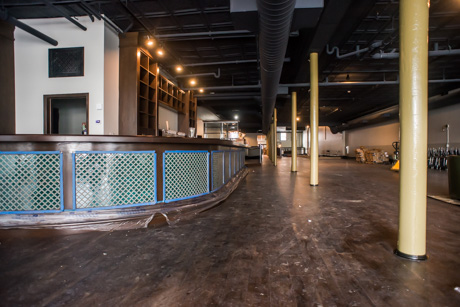 Eli Fish Brewing Company, in the Newberry's building downtown, might be less than a month away from opening.
Co-owner Matt Gray said construction is done. Now it's just a matter of waiting for the delivery of the rest of the furniture and kitchen wares.
Starting today, four managers are working full-time at the restaurant and brewery. Next week, there will be an open interview period for potential staff members.
Gray said his partner, Jon Mager, should be able to start brewing beer next week, which is one of the big decisions because it will take four weeks for the first batch to be ready to serve.
"Which puts us in a real bind," Gray said. "Do we open on March 1 or do we wait another three weeks so we have our own beer on tap?"
The target date for the FreshLab winners to open their food booths is April 1. The winners have not yet been announced.
There are four apartments on the second floor just about ready for occupants. The rental rates will be from $850 to $950 for the one-bedrooms and $1,250 for the two-bedroom apartment (which features a large living room and dining area and a large master suite with a dual-head shower).
There's space on the third floor for three apartments. One will be either two or three bedrooms and possibly a balcony/deck in the back of the building. The Newberry building is one of the projects under consideration for a Downtown Revitalization Initiative prize and if selected, the money will be used to finish these apartments as well as a patio/seating area at the back of the restaurant in Jackson Square.
"I'm excited," Gray said. "Jon is excited. I've just got to get it open. Not only has it been a long time and a big project, we're pushing it. Our staff is ready to go. We're ready to go. We need to start changing the flow of cash."