January 21, 2018 - 4:04pm
Photos: Corfu fire installs officers, recognizes service of members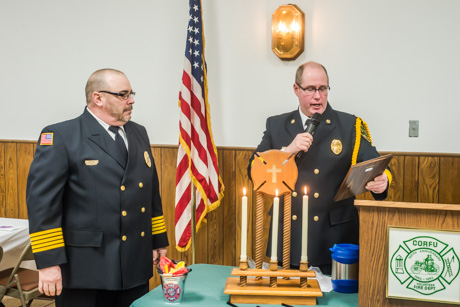 Corfu Volunteer Fire Department held it's annual awards and installation dinner on Saturday night.
Bernie Fix, top photo, received the Firefighter of the Year Award from Chief Brian Schollard.
The firematic officers for 2018 are: Brian Schollard, chief; Greg Lang, deputy chief; Brian McMartin, 2nd assistant chief; Dean Eck, senior captain; captains Ben Trapani, Mitch Bates, and Dan Smith; Dan Smith; fire police captian, Matt Lenard; fire police lieutenant; lieutenants, Glenn Eck, Steve Rodland, and Tyler Lang; Dean Eck, safety officer.
Executive officers are: Steve Rodland, president; Tyler Lang, VP; Paula Trapani, secretary; Jen Eck, treasurer; Allan Starkweather, sargeant at arms; Brad Lang, chaplain; and trustees, Bernie Fix, Justin Rodland, and Ed Fauth.
EMTs, Kristen Gaik, LoriAnn Santini, Karen Lang and Cathy Skeet. 
Corfu Fire District officers: Bruce Fauth, chairman; Jim Mallory, deputy chairman; Jenny McMartin-Eck, commssioner; Jim Hale, commissioner; Paula Trapani, secretary; and Michelle Sformo, treasurer.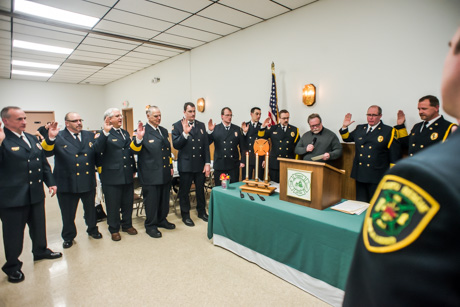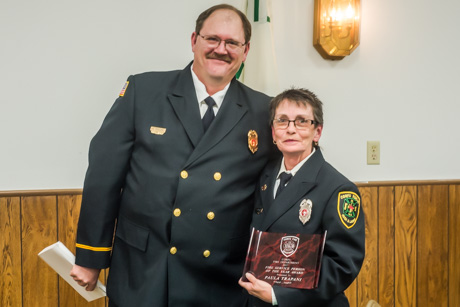 Paula Trapani received the Service Person of the Year Award from President Steve Rodland.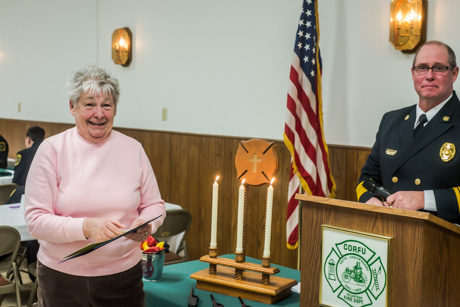 Linda Tucker was honored for 45 years of service.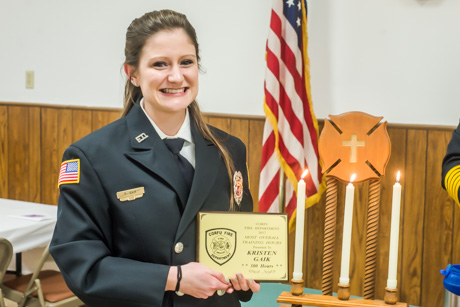 Kristen Gaik put in more than 300 hours of training.
Ed Fauth was recognized for responding to the most calls.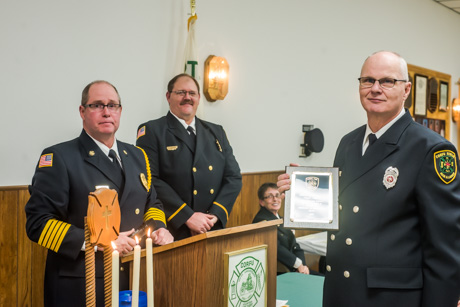 Bruce Fauth was recognized for his effort to help the department secure a federal grant.