April 8, 2016 - 12:50pm
Photos: Families of Marine recruits get glimpse of military life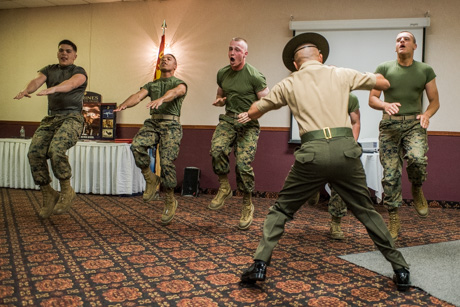 It was family night Thursday at the Clarion Hotel in Batavia for a meal, a training demo and a Q&A for the loved ones of incoming recruits.
The NCOs were dressed to the nines in their Class As loaded with ribbons and gold stripes, and the new recruits were polite and professional in their slacks and blue Marine-issued T-shirts, already well schooled in "yes, sir" and "no, sir."
It's all part of a process local Marine recruiters take their future Marines through so they will be better prepared for the rigors of basic training and life in the corps.
For most of the event, the room was quiet and calm, with Marines and family members enjoying a meal together and discussing life in military service.
Then Marine Staff Sgt. Jose F. Garcia, a drill instructor from Marine Corps Recruit Depot Parris Island, entered the room with a group of five young men who have recently completed basic training. In a flurry of jumps and spins and arm waving, Garcia led the men through a fast-paced demonstration of a training drill.
Marine Master Gunnery Sgt. Terry B. Hall, a recruiter instructor for Marine Corps Recruiting Station Buffalo, explained during the Q&A that the purpose of basic training is not only to teach recruits military skills and improve their physical fitness, it's also to rebuild their character and turn them into Marines.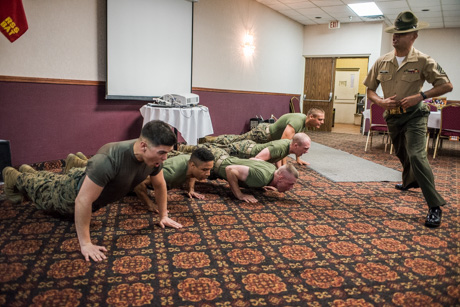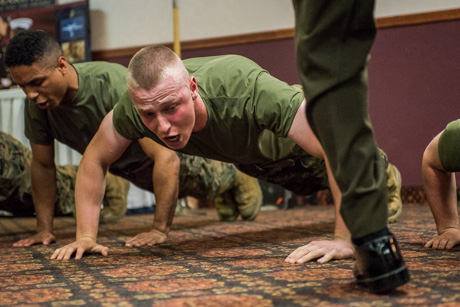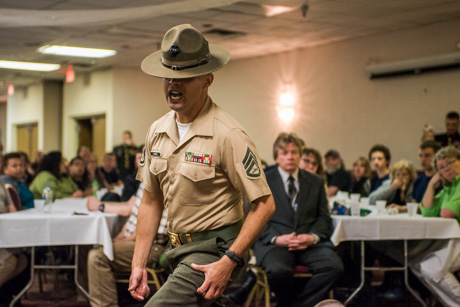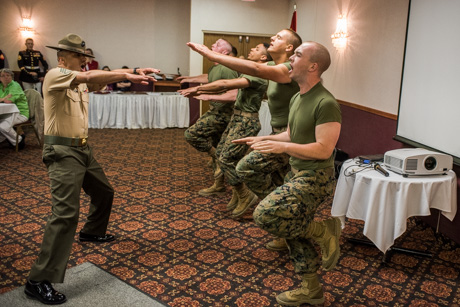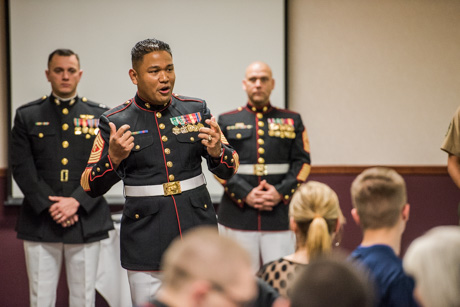 Marine Master Gunnery Sgt. Terry B. Hall.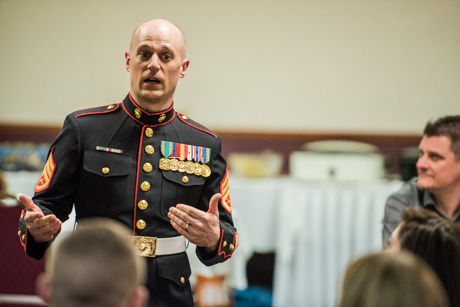 Marine Staff Sgt. Daniel Hendrickson, pool program specialist for Marine Corps Recruiting Station Buffalo.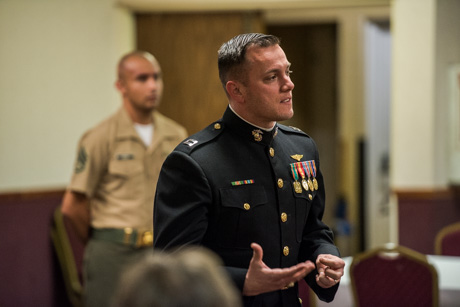 Marine Capt. Michael A. Kelly, executive officer for Marine Corps Recruiting Station Buffalo.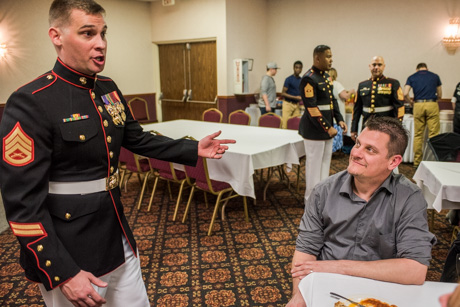 SSgt. Stephen Porter, a decorated Iraq combat veteran, runs the Batavia recruit station.
Below, photo and caption provided by the Marine Corps.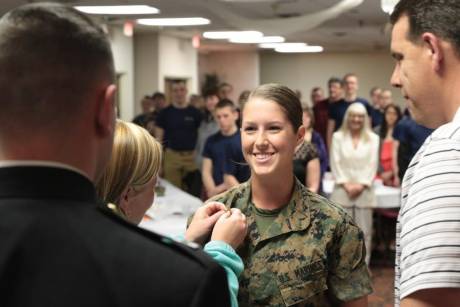 Parents of Marine Pfc. Maria A. Inzinca, pin on chevrons during her promotion ceremony at the conclusion of Marine Corps Recruiting Sub Station Batavia's annual Family Night at the Clarion Hotel in Batavia. Inzinca is a native of Bergen and will serve the Marine Corps as an embarkation specialist. (U.S. Marine Corps photo by Staff Sgt. Christopher O'Quin.) 
April 8, 2016 - 3:34pm
#1
Seems to be a good program.
April 8, 2016 - 5:45pm
#2
I don't know about that, John. All that DI induced shouting, leaping, and jumping can't be good for a citizen's digestion!
April 9, 2016 - 7:38am
#3
Marines, Thank you for protecting our country.
Semper Fi Brothers!