June 12, 2016 - 7:03pm
Photos: Flag Day ceremony at VA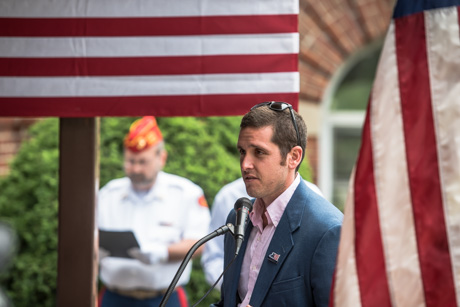 Michael Mazutta, an Afghanistan and Iraq war veteran, was the keynote speaker at a Flag Day ceremony this afternoon at the VA hospital in Batavia.
Included in the ceremony were certificates of appreciation to Vernon Rowe and Joe Gerace. After Rowe received his certificate from Mazutta, he volunteered to present Gerace with his certificate.
Students from Batavia Middle School presented handmade gifts to the veterans who are residents at the hospital.
The St. Joe's band performed after the ceremony.
Prior to his invocation, Chaplain Robert Chambers called for a moment of silence to honor the victims of the mass shooting in Orlando and then prayed for them and their grieving families.