November 11, 2018 - 3:31pm
Photos: Le Royans dedicate memorial to 12 who died in World War I on 100th anniversary of Armistice Day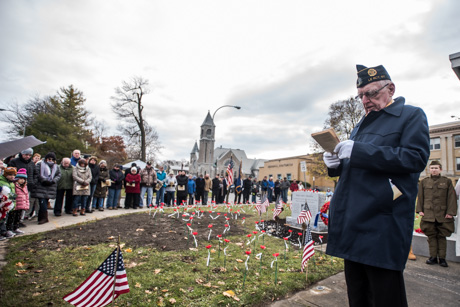 George Botts, Cecelia Cochran, Errol Crittenden, Leo Fiorito, Thomas Illes, Edward Kaine, Percy Luttrell, Patrick Molyneaux, Edgar Murrell, George Ripton, Alvin Smith and John Wilder.
Twelve Le Royans who went to war in the Great War, the War to End All Wars, and who didn't return home.
Today they were honored on the 100th Anniversary of Armistice Day. The day when a treaty calling for the end of hostilities in Europe on the 11th day of the 11th month at the 11th hour 1918 went into effect.
A new memorial to Le Roy's 12 who died as a result of the war was dedicated at Trigon Park with prayers, poems, a song, a reading the names of the 12 names, a 21-gun salute, and the playing of taps.