November 3, 2018 - 3:58pm
Photos: Martial Arts tournament in Le Roy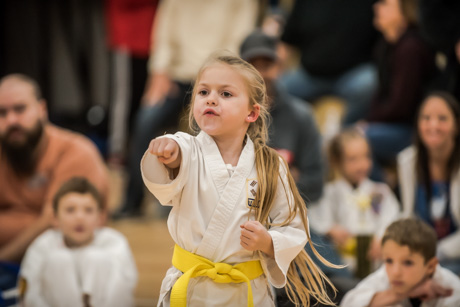 Seven-year-old Christina Guiher demonstrates what she's learned in her karate lessons for judges during the sixth-annual Traditional Martial Arts Association Tournament at Le Roy High School this afternoon.
The Tournament consists of Sparring (point fighting), Individual Kata (forms), Team Kata, Weapons Kata, and Self Defense.
Tournament organizers are Soke William Cavalier (Livonia Tatsu Do School), Hanshi Dick Borrell (Borrell's Karate Academy Batavia), and Renshi Fred Merica (Le Roy Karate & Self Defense Center/ Main Street Fitness). All three have been close associates and tournament/clinic organizers for the past 40 years.