November 20, 2016 - 2:45pm
Photos: Retirement party for Sheriff Gary Maha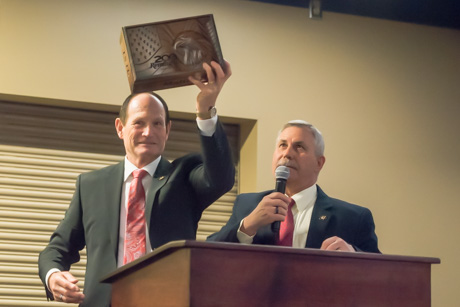 More than 350 people attended Sheriff Gary Maha's retirement party at Batavia Downs on Saturday night and Maha was feted with more than a dozen gifts, certificates and plaques. 
Maha started his career in law enforcement as a dispatcher and film processor for the State Police 50 years ago. After a year with the State Police, the undersheriff of Genesee County invited Maha to apply for a deputy's position and he's been with the Sheriff's Office ever since.
He never set out to become sheriff, he said, and when Doug Call announced his retirement, he thought the appointment by Gov. Mario Cuomo would go to a fellow Democrat, but based on Call's recommendation (Call was a Democrat), Maha was appointed to the position. Maha never faced any opposition in any election.
Maha's final term ends Dec. 31 and Undersheriff William Sheron will become sheriff.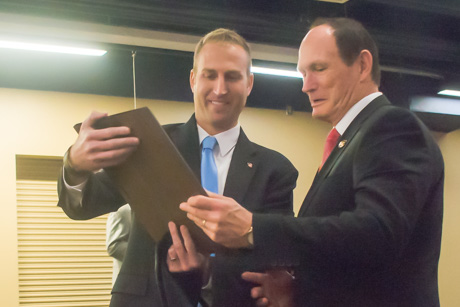 Livingston County Sheriff Thomas J. Dougherty presents a plaque to Maha.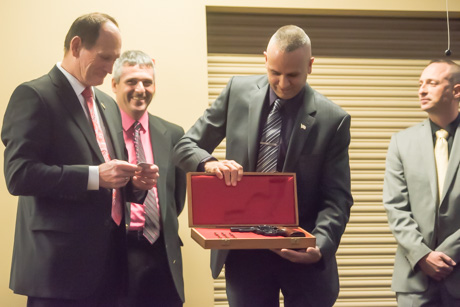 The County's Deputy Sheriff's Association presented Maha with a Smith & Wesson .38 revolver, exactly like the one he would have carried as his first service revolver. They also presented him with an updated permit to include the revolver.
November 20, 2016 - 4:28pm
#1
Congratulations Sheriff Maha on your well deserved retirement. You have done a great job of protecting the citizens all these years. We hope you enjoy your retirement, you will be missed by your colleagues of the law enforcement, fire service, and EMS community. Your knowledge, leadership, and kindness out matches any other. As you leave your office you need to know you are the best.
November 20, 2016 - 5:08pm
#2
November 21, 2016 - 7:25am
#3
Thumbs down? Why do you not like the retiring Sheriff?