April 25, 2017 - 4:29pm
Planned DePaul complex on East Main draws speakers, pro and con
A plan to build apartment complexes on East Main Street drew a full house to Monday's City Council meeting, but the project, aimed at people in vulnerable populations, got mixed reviews from the 23 speakers.
The City Council was being asked to move forward a resolution to rezone the properties at 661, 665 and 679 E. Main St. Most of the location is a former State Police barracks.
The area is currently part of an industrial zone. The council is being asked to consider rezoning it to Commercial, or C2.
This would allow the project from DePaul, known as Batavia Square Apartments, to move forward, but it would not mean the project is approved.
City Attorney George Van Nest reminded council members they were being asked to consider a rezoning proposal, not the actual project that inspires the consideration.
"You really need to center on the question, does this zoning change make sense, notwithstanding some of the considerations that may have been out there or questions about other uses or other studies that are not specifically germane to the question of zoning itself," Van Nest said. "The petition is for rezoning that is at the behest of the City Council legislatively."
There was a public hearing on the rezoning issue, but comments during to hearing had to be just about the rezoning issue. Since many of the 23 speakers at the meeting wanted to talk about more than just zoning, they took to the podium during the public comments section of the council meeting.
About half of the speakers favored the project, and of those, about half worked, have worked for DePaul or were families that have benefitted from DePaul's services.
Opposition came from people concerned about adding more rental apartment units to the city and how that would impact the current population and private-property landlords. They also raised the issue the amount of taxes DePaul would be paying while the new apartments would lead to the use of city services, such as police and fire.
The council voted by a narrow 5-4 margin to move the resolution for the zoning change to its next business meeting.
"If it's to be believed that 50 percent of the residences in the City of Batavia are rentals, then the question is, why do we need more rentals?" Chuck Ruffino said.
He referenced a study being done on the county's housing stock, designed to help planners understand local housing needs. Ruffino said the council shouldn't move forward without more information.
"We really don't have good information on which to make this decision, because once you make that decision, the agenda is set," he said. "You can't take it away. It's done. Thirty years, tax exempt."
Russ Romano raised concerns about the number of rentals already in the community, the need for the housing study to be completed, and the seeming shortage of housing for people in the workforce. He also questioned the wisdom of changing the zoning.
"I question the fact that you can make this change in zoning when it goes against the current zoning law of being zoned industrial," Romano said. "I think it's dangerous and in your comprehensive plan it has not changed."
John Gerace said he doesn't believe anybody in the community is against housing for people on disability or against veterans or seniors, but he did question the need for it now, especially housing that is tax-break subsidized.
He calculated that at $25 million for construction, each of the 80 units would be worth more than $300,000.
"I would like to live in a $325,000 apartment," Gerace said.
Since subsidized rents are available to many potential tenants, Gerace said he's concerned that current landlords will lose out.
"It will be a drain on the local economy, on local landlords who bought property and have been paying property taxes right along and have vacancies right now," Gerace said.
George Galliford said it would be unfair to local landlords to allow this project to move forward.
"It seems to me that it's very unfair competition for landlords who have been conscientious, paid their taxes, done what they needed to do and are never ever given any kind of favor," Galliford said. "Thirty years is a long time. Those payments in lieu of taxes are to me are a joke. They should be much, much more than what they are. It's unfair competition."
John Roach said he thought it was premature for the City to move forward with project approval. 
He said the current vacancy rate in the city is 7 percent and that 5 percent is considered ideal. He said the county is projected to lose 9 percent of its population in coming years.
Adding more apartment units will just put more financial pressure on existing landlords, he suggested, and if those properties move off the tax roles, "it will just put more pressure on the rest of us."
The DePaul project also had its defenders.
Stacy Falkowski (top photo), a Batavia resident, said life is getting harder for her elderly parents, especially now that her father has Parkinson's disease. She described the difficulties she and her mother have caring for her father in her parent's current commercial apartment.
She said her father has fallen more than once in the bathroom and they're lucky he hasn't been seriously hurt; no broken bones, but there has been blood to clean up.
"It's pretty tough to deal with every single day of the month," she said.
The planned DePaul housing complex, with its amenities for the elderly, the disabled and other vulnerable adults, along with greater social opportunities, would be great for her parents.
Most of the people who would move there, she said, are already local residents and to counter the argument against the lower taxes paid by DePaul, she said our local older residents had earned this sort of amenity.
"These people are paying taxes, and they've lived in the City ofBataviaa for many years and paid a lot of taxes, school taxes, property taxes," Falkowski said.
Colleen Gillam, from Waterport, said her 25-year-old son currently lives in a DePaul apartment in Batavia and for the first time in his life, he's living on his own and doing very well. She said for people like her son, the kind of housing DePaul provides is hard to come by.
"I think with this coming into your community it will only benefit you and the families who live here and in the surrounding areas," she said.
Chris Syracuse, a longtime employee of DePaul said when DePaul comes into a community, they do so humbly and with an eye toward building a beautiful facility that the community will be proud to see.
"Never in 27 years have I ever had somebody say to me, 'I regret DePaul coming into my community,' " Syracuse said.
After the council discussion and before the vote, City Manager Jason Molino addressed some of the issues raised during the meeting.
He said the area had been zoned industrial for 50 years. Before that, it was considered a business district, which is similar to today's commercial zone. Over the past half century, there has been no industrial activity in the area. The train tracks that would have supported industrial activity, and supported the Trojan tractor factory in the area, were removed in the 1960s or 1970s. Over the past 50 years it's been mixed commercial and residential with some light manufacturing.  
During that period, industrial growth in the city has taken place around Graham, Treadeasy, and O-AT-KA, and future industrial growth is more likely to take place in the greenfield developments outside of the city. The East Main Street area of the city isn't likely to attract any industrial development.
"It hasn't happened in the past 50 years, and it's not likely to occur in that specific area," he said.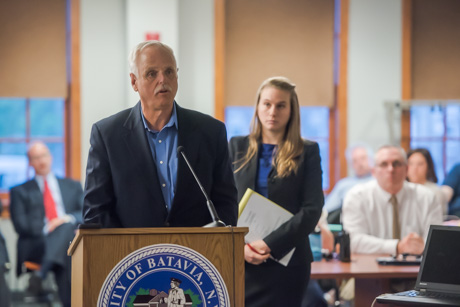 Mark Fuller, project developer.