July 8, 2017 - 10:58am
Police looking for blue sedan with front end damage that caused accident in Bergen last night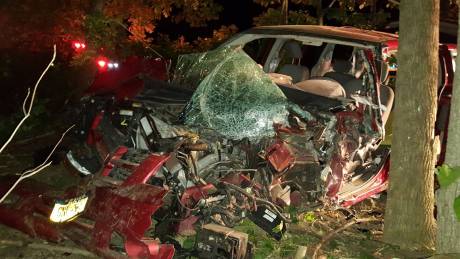 Local law enforcement is looking for a blue, four-door sedan with front and driver-side damage that investigators believe was the cause of an accident in Bergen last night that sent six people to the hospital.
The accident was reported at 9:15 in the area of 7762 Clinton Street Road.
The initial investigation by the Sheriff's Office indicates that the blue sedan passed a 2010 Dodge Grand Caravan unsafely and struck an eastbound 2010 Ford F150.
The collision forced the pickup truck off the road on the south shoulder where it came to rest facing north, resting on its passenger side.
The Caravan swerved to the right to avoid the collision and it traveled off the south shoulder, where it struck a large utility pole, continued west and struck a large tree.
Volunteer firefighters, when they arrived on scene, began a lengthy extrication to get the driver of the Caravan, Hailee N. Callicutt, of Prune Street, Batavia, out of the vehicle. She suffered a broken leg and was transported to Strong Memorial Hospital by Mercy Flight.
The five other passengers in the Caravan suffered minor injuries and were transported by ambulances to Strong.
No information was released on whether the driver of the pickup truck, John F. Gurtler, of Swamp Road, Bergen, was injured.
Responding to the scene were Bergen fire, Byron fire, Churchville fire, Le Roy ambulance, and Mercy EMS. 
The accident is being investigated by Sgt. Jason Saile, Deputy Ryan DeLong, and Trooper Chad Bea. 
To provide information about the blue sedan that may assist in the investigation, call the Sheriff's Office at (585) 343-5000.
Photo: Courtesy Alicia Kaus/Video News Service.