Image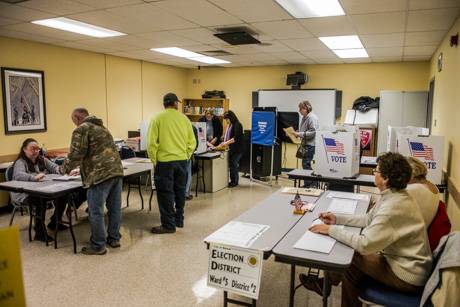 There were four people in line at the polling station on Evans Street, inside the Fire Hall, before the polls even opened at 6 a.m., this morning.
Within minutes of the polls opening, another five or six voters showed up.
Local officials are expecting a record-level turnout for this election, driven mainly by a highly contentious presidential election fronted by major-party candidates who are polarizing on both sides -- Hillary Clinton, the first woman who is a major party nominee, and Donald Trump, a celebrity and real estate mogul.
There are other contested offices on the ballot, including U.S. Senator, State Senator and Batavia City Council.
Laurie Thomas was the first voter at the Fire Hall this morning and we asked her why this election was important to her.
"I think it's probably the most important election in my lifetime," Thomas said. "You know, people look at the economy and say it's good and they have to be blind. That's one reason I'm voting for somebody who has taken a business and built it up and knows a thing or two about the economy."
It's been a long, bruising campaign and some people have been saying they're happy that it's over, but Thomas said she doesn't necessarily feel that way.
"I'm excited about this election," Thomas said. "I voted for Trump. I think there's going to be a sweep for him. There are people out there who are really mad with the government we have and when you look at Hillary and see the corruption and the lying. I would much rather have somebody who is a little crude, OK. My dad was crude, but he was a great guy. I would much rather have that than somebody who just puts everything in the dark and you never see anything until somebody digs it up."
UPDATE 9:17 a.m.: Turnout has been strong and steady throughout the county this morning, according to an elections official. There was one glitch. A vote scanning machine in Bethany malfunctioned. It was quickly replaced.