October 24, 2018 - 6:15pm
Profile: Nate McMurray, Democratic capitalist, bucking the trend of his party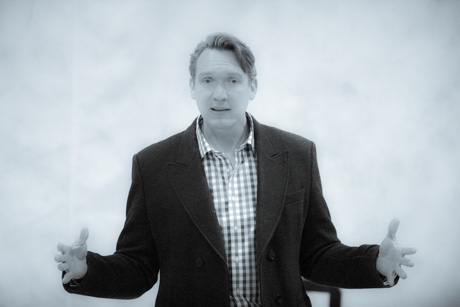 If you take Nate McMurray at his word, he often sounds a lot more like a conservative, or even a populist, than the progressive he sometimes claims to be.
He says, for example, that he's a capitalist. He believes in an American work ethic. He worries about deficit spending. He's concerned about any increase in middle-class taxes. He decries over-regulation of business. He's a gun owner who says a homeowner has a right to use a firearm to defend himself and his household. He lists Ronald Reagan as one of his childhood heroes.
On the populist side, he says Donald Trump is right about some things -- he's right about unfair trade deals and he's right that much of America has been hurt by recent economic policies and that the system has become fundamentally unfair to working Americans.
If McMurray goes to Washington, he promises to be his own man. He won't be beholden to Nancy Pelosi and he won't owe anything to any special interests.
"I am not controlled by anybody, especially not Nancy Pelosi," McMurray said Monday night during a meeting with about 50 undecided voters at Noblehurst Farms in Pavilion. "I have no relationship with her whatsoever. ... I don't know anything about Nancy Pelosi. I'm going to go (to Washington) and I'm going to be an independent voice. If Nancy Pelosi is right about something, I'm going to say that's right. If she's wrong, I'm going to say that's wrong."
Rise from underdog to legitimate challenger
When Nate McMurray announced his intention to run for Congress in New York's 27th District, he wasn't even the favorite among the five others expected to vie for the seat. Once he emerged after a few weeks as the lone Democrat still interested in running, Gov. Andrew Cuomo tried putting pressure on Lt. Gov. Kathy Hochul to drop her bid for reelection and run against Rep. Chris Collins, whom she lost to in 2012. Hochul refused to switch races and has since endorsed McMurray.
Early on, McMurray adopted the hashtag on social media "#NateWillWin" but remained at best a long shot as July dragged into August. Even though ethics questions hung on Collins like bright red lights on a Christmas tree, the GOP said Collins was their man. His credentials included a first-in-Congress endorsement of Donald J. Trump in 2016 and a $1.4 million war chest. Loyalty to Trump in the 27th runs deep (the president's approval rating is 62 percent, twenty points higher than the rest of the nation) and Collins has never wavered from his support for the sometimes embattled president.
The incumbent seemed invincible.
That all changed when the multimillionaire businessman was arrested Aug. 8 and charged with securities fraud, wire fraud, and lying to the FBI, in connection with a series of stock trades his son Cameron and others made in June 2017 after Collins learned that a critical drug trial had failed for Innate Therapeutics.
Collins is accused of illegally providing confidential information about the drug trial's failure to his son during a phone call Collins placed from the lawn of the White House.
Since then, Collins has said he was running for reelection, then not running for reelection, and then was back in the race. In the intervening weeks, he has largely avoided the public and reporters while dumping campaign funds into TV commercials that portray McMurray as a Pelosi-backed extremist out to destroy the presidency, destroy the economy, and take away your guns.
None of that is true, McMurray told the crowd at Monday night's meeting.
"Every independent news outlet that has looked into these things is saying the advertisements are false," McMurray said. "The fliers are false. The advertisements are false. If the stuff (Collins) is saying is so true, he would have the guts to stand on stage and say it to my face."
McMurray has worked hard. The criminal charges have hurt Collins. While Trump supporters are steadfastly behind their man, other members of the GOP are expressing doubt and the race has tipped from a sure thing for Collins to a toss-up, according to a recent Siena poll.
Contrasting backgrounds, different messages
McMurray, a barrel-chested, 6'3" former high school bodybuilder,  makes much of his working-class background, both to burnish his populist image (though he said he never thought of himself as a populist until asked about it) and to contrast his upbringing to that of Collins.
McMurray was born in Tonawanda. His father was a proud union member, a painter, and McMurray said the chemicals in the paint at the time were more dangerous. His father died of cancer at age 39, leaving his 35-year-old wife to raise McMurray and his six siblings on her own.
He said finances were a struggle. He worked his way through Erie County Community College. He studied hard and became a Fulbright Scholar and earned his law degree and passed the bar. He's been a corporate attorney most of his adult life, most recently with Delaware North in Buffalo. He is currently the supervisor in the Town of Grand Island.
Collins, in McMurray's narrative, grew up in privilege. Where McMurray is a working-class Western New Yorker, Collins is the son of a well-to-do business executive, able to attend a four-year university in North Carolina. Where McMurray made his own way, Collins benefitted from his family's wealth. Where McMurray played by the rules, Collins thinks the rules don't apply to him.
"If we win this seat, we don't just win for Western New York," McMurray said Monday night. "We send a message to this entire country that a guy who started at a community college, who worked every day, worked his way through law school, is able to beat maybe the richest and perhaps the most corrupt man in Congress."
McMurray also thinks his background and his attitudes, especially his full-throated support for capitalism and his support of Second Amendment rights, puts him in conflict with the mainstream of the contemporary Democratic Party.
"I do not want to run to impeach President Trump," McMurray said during an interview with The Batavian early this month at WBTA's studio. "I don't support the SAFE Act. I mean there are things about me that most Democrats when they hear me, they cringe. The reason why I'm a Democrat however is I think we need some fairness in our society.
"I think some things got out of whack. I think we need to fight for working people again. I want to restore the Democratic Party -- not of Nancy Pelosi, but the Democratic Party of my dad, who wore a union jacket with pride and believed in labor and believed in working families, and that's who I am and that's what I'm fighting for."
In our interview, we talked about issues and policy. McMurray said it was the first time a reporter had sat down and talked to him in depth about what he really believes and not just the horse race angle of a political campaign.
The economy & trade, capitalism vs. socialism
We spent most of the time talking about economics: the nature of capitalism, the threat of socialism, and Trump's trade policies.
"I want to save capitalism from where we are," McMurray said. "I think capitalism is in danger. I think we're moving towards oligarchy. I think we're moving toward a society where a few people have all the power and control the democracy and control the vote and control the propaganda that we see every day about who to vote for.
"I can see that in my own race. We have potlucks and picnics where it is very successful it seems but unless you're going into that corporate till and getting those $50,000 dollar checks, it's almost impossible to compete."
McMurray defends capitalism from a populist viewpoint.
"Right now, those rules are dominated by a clique of corporations and powerful elites," McMurray said. "It makes sense. Think about it. Why would a major corporation hire lawyers? I'm one of those lawyers they've hired in the past. Why would they hire lobbyists to shape and manipulate laws to their benefit?
"Everything from labor standards to environmental laws to everything else. They're passing the risks on to us. A congressperson is supposed to be in there making sure those laws are also fair to help people who don't have that power, not the lobbyists. We're supposed to be an advocate for regular people."
Big Pharma, economic elites and the forgotten
It's the crony capitalist controlling the system, McMurray said. The problem is perhaps most acute, in his view, in the pharmaceutical industry.
"We have to shorten (drug patents)," McMurray said. "They're almost indefinite right now so they can rake everybody over the coals. That's why we got people in Batavia driving to Canada to get medicine because we pay more than any (other country). So that's what I'm talking about. They say why aren't you a capitalist? Yeah, I'm capitalist but we have to have a capitalistic system that makes sure all stakeholders are considered and not just ones with the money to buy lawyers they can make the laws for them."
It's this sort of populist resentment of the economic elite setting the rules to benefit themselves that fires up Donald Trump's base, McMurray said, and they're right.
At 43, married for 20 years, with two sons, Moses, 10, and Luke, 7, McMurray says he wants to represent the working families of Western New York, not corporate interests. 
"I also believe that the message of President Trump is a strong message," McMurray said. "People have been forgotten in this country. Now I don't agree with his answers but I agree with that message. I believe that we have to remember there's a forgotten America. We can see that in the 27th District. Look at our population decline. Look at how things have gone downhill for so many people. We need someone to advocate for them.
"We know who is advocating for the big corporations," McMurray added. "I'm not taking any corporate money. I've denied corporate money. Look at my background as a business person. That money is accessible to me and it's been painful. It's tested my values not to take that money but we're doing everything to try to run this the way the Founding Fathers intended, from a grassroots perspective."
Trade creates opportunities for Americans
On one hand, McMurray says he shares Trump's views that the United States has gotten itself trapped in unfair trade deals based on naive and utopian views of the world. On the other, when pressed, he acknowledges NAFTA has benefitted the United States and that KORUS (the free-trade agreement with South Korea) has opened up a new market for U.S. companies (in one of his corporate jobs, McMurray helped U.S. companies find customers in South Korea, helping to create jobs in the United States, which is the exact opposite of what Collins claims in one of his campaign commercials).
The United States needs trade, McMurray said, to create opportunities for America's farmers and manufacturers.
"The biggest populations are in Asia," McMurray said. "They're in India and China. Those are growing economies where people are hungry for new items. Listen, I'm someone who has been over there for awhile. They would kill for our Fords or a nice big truck. Many Chinese guys would love to drive a brand new F-150.
"We've got to make sure they have access to it. You know many people in China would love clean milk from Batavia or clean yogurt from Batavia. To put up a wall and say we're not going to sell to these people, that's lunacy."
Again, while saying he agrees with Trump on trade, he opposes tariffs. It's hard, after all, to call yourself a capitalist and support tariffs.
"I think tariffs are bad," McMurray said. "I think that it depends on the situation. I mean a tariff is a tax, essentially. It's a tax on whatever business is being poked. Right now it's a tax on soybean farmers. (It's a tax on consumers, The Batavian interjects) Yes, it's a tax. I mean they call it a tariff but a tariff is a tax. Go back and look at our history. Go back to the Boston Tea Party. A tariff is a tax. So in principle, I'm against it."
Regarding McMurray's economic populism, in our interview, we raised the issue that much of the resentment expressed by many Americans about their economic status is driven by political rhetoric. The left in particular, for a decade or more, has decried wage inequality and wage stagnation. The message has stuck even though it doesn't fully account for how every American at every level of society is actually better off than 10, 20, even 30 years ago.
Some inequality is needed to power the American Dream. It's what drives entrepreneurs to create new things and new jobs. Complaints about wage stagnation ignore the fact that overall compensation has continued to rise, driven mainly by employers paying ever-increasing health care costs (costs that eat up potential raises), and that consumer purchasing power has increased decade by decade (see this chart from humanprogress.org).
McMurray replied that he worries that the sense of resentment people feel when the boss makes so much more than they do is an overall threat to the survival of capitalism. That perception, whether based on reality or not, needs to be addressed, he said.
"There is definitely some truth that capitalism over time is consistently (better)," McMurray said. "This is why I'm a capitalist. It consistently improves the lives of people. It consistently does so. I think if you're making the long-term argument things have gotten better over time for a lot of people. It certainly has, but I think there's also the truth that on the top what they have is getting larger and larger. And I think that's a threat to the overall system."
In 2018, McMurray finds himself in a Democratic Party that is unlike the Democratic Party of his father. The socialists are surging. Bernie Sanders remains popular and a possible  2020 presidential contender. In New York, Alexandria Ocasio-Cortez, a congressional candidate, Julia Salazar, a State Senate candidate, are avowed socialists Ten more self-identified socialists across the nation have won state house races, while more than 50 percent of Democrats polled say they've lost faith in capitalism. The Democratic Socialists of American, whose adherents include Ocasio-Cortez and Salazar, now has more than 50,000 members, up from 7,000 less than two years ago.
Given a chance to talk to socialists in his midst, McMurray says he would tell them how misguided they are in their support of socialism, which has cost countless millions their lives over the past 100 years and has led to economic ruin everywhere it's been tried. He said the idea that capitalism is inherently evil is extremely dangerous.
"(To) the people who want to embrace socialism, I would ask them to look at our history and see the failures of the last 100 years in the world and the many, many people who died from these experiments," McMurray said. "You have to be very cautious about trying to use these social experiments to fix all the -- there's no magic wand to fix all the world's problems. Human beings, there are many challenges to human life. There are things we can do better, but I would ask them to remember how great our success as a country has been for the last hundred years."
Opposes 'unwinnable wars'
On foreign policy, Donald Trump campaigned as a non-interventionist. He's governed like a neo-conservative. If elected, McMurray said he would oppose unwinnable wars.
"Well, obviously, we don't we don't use U.S. troops unless we're sure about what we're doing and we have a clear goal," McMurray said. "I would never send my children to war, to death, to violence without having a clear goal and a clear understanding what we're trying to achieve. I think what we are not the world's police. I think that's a mistake. "
If elected, McMurray said it will not be his goal to impeach Donald Trump but he does think Congress needs to reassert its rightful place in our system of checks and balances and reclaim some of its power from the executive branch, though he pivoted in his answer to a state issue, the SAFE Act, to illustrate how unchecked power causes people to distrust government.
"We're creeping towards the unintentional destruction of our of our separation of powers system," McMurray said. "I think the way the executive order has been used by past presidents, like President Obama, has been gratuitous and wrong. I think the way we force -- listen, when people feel they're forced to do something or it's not done through the proper process or system they get angry. They get apathetic. That's why people hate the SAFE Act, more than anything else, because they feel it was forced upon them in an undemocratic way. They are angry about that. I agree with that. They should be angry about it."
Guns and the Second Amendment
On guns, McMurray supports the Second Amendment, though he won't side, he said, with the absolutists on the left or the right of the issue.
"I believe the extreme positions on both sides are wrong," McMurray said. "I believe in universal background checks. We have to look at certain weapons and who gets to hold them and how they get to hold them but I can promise you, I will not take action without listening to the 2A groups that oppose me now. I will talk to these guys. I will listen to them because there are a lot of experts. I am amazed at the amount of detail and research that has been done on this issue and I believe in the Second Amendment."
The gun issue in this campaign came up in a unique way a couple of weeks ago when Grand Island Republican Councilman Michael Madigan complained to local media that McMurray threatened him. He produced a recording where McMurray said, "I think you're sick. I think you really are. I have a gun. Don't come to my house."
Rather than defend McMurray's Second Amendment rights, the Collins campaign used it as an opportunity to attack him, according to a statement released to the Buffalo News.
"This obnoxious and borderline violent behavior displayed by Nate McMurray is nothing out of the ordinary," said Collins campaign spokeswoman Natalie Baldassarre. "Whether it be his off-putting comments on social media or his unprofessional conduct during town meetings, it's clear Nate needs to learn how to keep his emotions in check. This audio is deeply disturbing and further shows Nate is unhinged."
After Monday night's event, McMurray defended his reminder to Madigan that he owned a gun. The right to defend yourself, your family, and your home is a fundamental right most NY-27 residents support, he said. He's surprised the Collins campaign would attack him over it.
"This is a guy (Madigan) who digs through my garbage and hides in the bushes," McMurray said. "I told him, you come near my house again, I'm going to defend my family. I would say it 100 times. It's the way I believe."
The NRA has given McMurray an F rating. On Twitter yesterday, McMurray complained that the NRA has no voting record on which to judge him and didn't even bother to ask him a single question about gun rights.
He called the NRA "corporate hacks."
The attack on his position on guns by Collins, he said, is just another way Collins lies about him.
"Some people on the other side (the left) say I'm way too pro-gun, so I think I'm OK," McMurray said. "I want reasonable steps like universal background checks but I would never do anything to take away the Second Amendment."
New York voters have been disappointed a couple of times by Democrats who campaigned with conservative and populist themes only to transform into standard-issue progressive Democrats once they obtained statewide office (Kathy Hochul, Kirsten Gillibrand), so you will have to decide for yourself whether to take McMurray at his word when he espouses conservative values.  
For McMurray's part, he says he wouldn't be where he is, living in Grand Island, serving as town supervisor, if he wasn't at least a little red.
"We have a very red town and we're proud of that," McMurray said. "We're proud of what that means. We believe in conservatism from a traditional perspective, which means you hold onto your traditions and your values and you hold them as important because they're valuable to you. They define who you are as a community. In that sense, I would call myself also a conservative.
"I mean, again, I grew up as an Eagle Scout. I grew up in a very very Christian household. I grew up reading very conservative authors. I grew up respecting and loving Ronald Reagan, like any kid in the '80s. That's who I am and I think we need to get away from this paradigm of Republicans versus Democrats. First and foremost we're Americans and Americans do not want to be taken advantage of by people like Mr. Collins."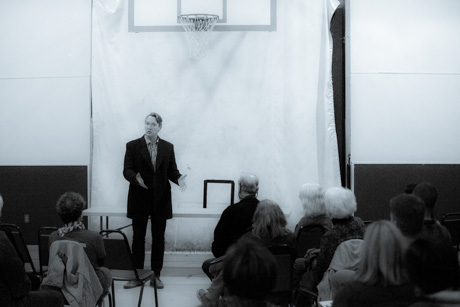 October 24, 2018 - 9:52pm
#2
Thanks, Jim. I'm glad you read it.
Jim's referring to a comment I made on social media. About all I did today was finish writing this ... started last night ... of course, the interview and the transcription were all before the actual writing.