December 19, 2016 - 11:09am
Psychiatric exams confirm Kyle Johnson has mental disorder, a danger to society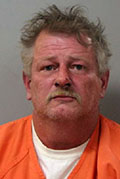 Kyle Johnson
After completing mental health evaluations, two doctors have found that Kyle G. Johson, who killed a neighbor and then set his own house afire on Selden Road in Le Roy on Dec. 1, 2015, is a present danger to himself or others because of a psychological disease or disorder.
Based on the medical reports, Interim Judge Micheal Pietruszka this morning confirmed the finding and ruled that Johnson has a dangerous disturbance of his behavior, thinking, feeling or judgment.
In August, Johnson was confined to the mental hospital in Rochester and ordered to undergo care, counseling and rehabilitation. This morning, Pietruszka confirmed the sentence and ordered him held until he is found to no longer be a danger or mentally disturbed, if indeed he is ever deemed mentally healthy again.
The morning of Dec. 1, 2015, Johnson walked to a neighbor's house, entered through an unlocked door and went into the bedroom of Norman Ball and shot him in the head while he slept.
Johnson then returned to his residence and set it on fire. 
When firefighters and a police officer arrived at the fire, Johnson tried to shoot them.
After a several-hour stand-off that involved emergency response teams from Genesee and Monroe counties as well as law enforcement officers from the Sheriff's Office, Batavia PD, Le Roy PD and Monroe County, Johnson was taken into custody without any further violence.
For prior coverage about Kyle Johnson, click here.