November 13, 2015 - 11:13am
p.w. minor launches custom-made boot line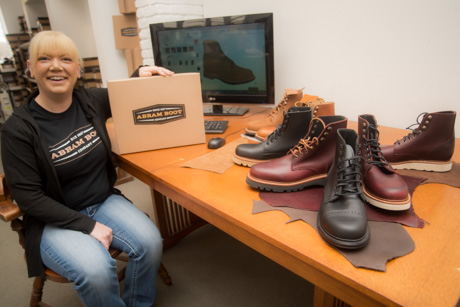 Now you can design your own Batavia-made boots.
p.w. minor announced today the launch of their new product line and brand, the Abram Boot Company.
The new boots are the same p.w. minor quality, and made right here in Batavia, but you, the customer, design your own boots at abrambootcompany.com.
You can also visit p.w.'s local outlet store at Main and Jackson to try on boots and sit at an in-store computer to design your custom boots.
Customers can choose leather, sole, eyelets, speed hooks, toe type and laces to fashion the look they find most appealing.
Local customers are invited to use the promo code "Batavia Made" when ordering their boots online for $200 off the purchase price.
The new line is named after Abram Vorhees Minor, the younger brother of Peter Wycoff Minor. The brothers founded p.w. minor in Batavia 149 years ago.
More than a year ago, Pete Zeliff and Andrew Young purchased the company, which was about to be shut down, and saved it, investing substantially to expand production, modernize the plant and bring jobs back to Batava that had been transferred to China.
Top photo: Lisa Paul-Khan.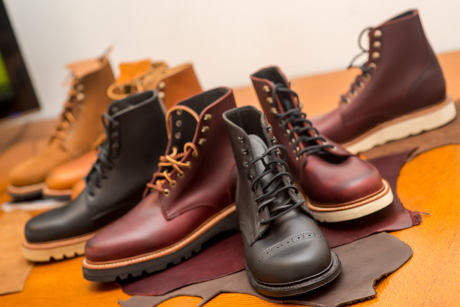 Full press release after the jump:
p. w. minor Launches New Custom Boot Brand
p. w. minor, a Batavia-based footwear manufacturer, has announced the launch of a new custom boot brand. Abram Boot Company is the organization's latest introduction to the market and can be found at abrambootcompany.com. The site allows the consumer to design their own personalized boots.
Perhaps an early Abram Boot Company customer Tom Kelsey describes it best, "That Web site is the BOMB! Great idea." CEO Pete Zeliff explains further, "It is a Web-based tool where the consumer makes their choices online and the image of the boot changes based on what leather they want, the sole they choose, eyelets, speed hooks, toe type and, of course, laces. The consumer can see their creation as they build it. The choices result in what is essentially a one of kind custom boot."
p. w. minor President Andrew Young says "It's being launched in a phased approach. From a marketing perspective more locally at first. We are also launching it initially with just boots." The tool can be enhanced to include custom shoes and even sneakers. "We expect it to grow to an international market." The site is accessible from anywhere in the world and is being showcased at the company's store at 97 Main St. in Batavia where you can also try similar boots on for size to ensure your custom boot will have a custom fit.
The local launch also includes a promotion. The promo code "Batavia Made" will save a boot builder $200 for a limited time. "We continue to get great support from this community" Zeliff added. "This introduction allows us to provide them a great product at an affordable price and will help us get better as well."
The company has been perfecting the project for a number of months. The process included a focus group of individuals that match the expected target market. Ryan Rocker was a part of that group. "The idea is awesome! I can design my own boot the way I want it and I can see it develop on the screen." David Uzarowski likes the quality of the local product, "These boots and shoes are as good as you can get and they're hand made by our neighbors here in Western New York."
The name of the company comes from and honors Abram Vorhees Minor. Abram and his older brother Peter Wycoff started the shoe company 149 years ago in Upstate New York after fighting in the Civil War. Peter Wycoff is where the p.w. in p.w. minor comes from. The company thought it prudent to include Abrams name in their success as well. "I'm a younger brother, too," says Young, "so I know what it's like."
Zeliff and Young purchased the company in August of 2014 after the company's closure was announced. Since then they have added nearly 30 jobs at the factory, invested heavily in production equipment and announced a plan to bring all of the company's China production back to the Batavia facility.