February 6, 2017 - 2:09pm
Ramparts Squirt team places third at state games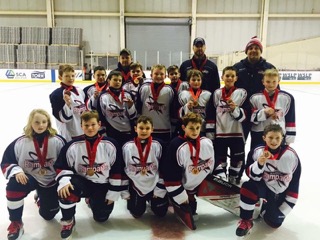 Press release:
The Batavia Ramparts Squirt Travel Hockey Team won Bronze competing in the Empire State Winter Games in Lake Placid this last weekend.

The team is made up of 9- and 10-year-olds from the Batavia area.

They include; Owen Bentley, Bronx Buchholz, Chase Cummings, Francesco Falleti, Jake Hutchins, Brady Johnson, Andrew Jursted, Orion Lama, Jameson Motyka, Sammy Pies, Evan Schwerthoffer, Anna Stevens, Justin Valyear, Noah Whitcombe and Mac Wormley.

The team is coached by Jeff Whitcombe, Pete Stevens and Chad Valyear.

On Friday, Feb. 3rd Batavia played the Tupper Lake Lumberjacks and won 9 to 2.

On Saturday, Feb. 4th Batavia played two games, the first one was against the Saugerties Mustangs and they tied 4 to 4. The second game of the day was against Sara Placid, which was also played to a tie of 2 to 2.

On Sunday, Batavia played the Cortland Flames and won 14 to 0.

The Batavia Ramparts completed round robin play and ended up tied for second place but lost the tiebreaker and ended in third place which set them up to play the fourth-place team in the Bronze Medal game. Batavia faced off against the Oswego Buccaneers and won 4 to 2, clinching the Bronze Medal for the weekend.

The Ramparts ended the weekend undefeated with a record of 3-0-2.