Image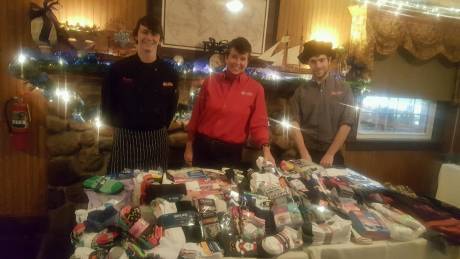 Steve Foster and Tim Adams, owners of the Red Osier restaurant, dedicated the month of November to charity for the local community.
The restaurant has always been closed on Thanksgiving, but this year, they opened for business, with many staff members donating their time to work; all the proceeds from meals served that day were donated to local charities.
During the month, the restaurant also raised $7,965 for Genesee Cancer Assistance. Foster and Adams added their own money to the pot and today turned over a $10,000 check.
Red Osier also donated two truckloads of food to the Le Roy Food Pantry.
Above, Red Osier staff members with some of the clothing items, including socks and underwear, collected for local donation.
Submitted photo.