Image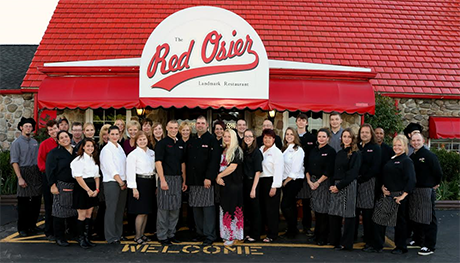 Press release:
The Red Osier has a goal to become as community-orientated as its owners, Steven Foster and Tim Adam. Together with their staff, they have decided to rename November "Lovember" with a month of promotions to give back to the local community.

In November, bring in a bag of nonperishable goods or new clothing and you will receive a $10 gift voucher toward your next dinner visit. All food will be donated to the Le Roy Food Pantry, while the clothing will be donated to the local homeless community.

Bring in a package of new undergarments and socks during November, receive a complementary chef dessert. All items will be donated to restaurant employee Wendy Cappoli-Frongetta's grassroots organization "Spirits and Skivvies" that donates underwear and garments to local less fortunate throughout the community. Her goal is to restore dignity and comfort to the fellow human one pair of underwear at a time. There is an auction of donated items this Sunday from 12 to 5 p.m. at the Byron Fire Hall where all proceeds will support "Spirits and Skivvies."

On Thanksgiving, the restaurant will be open 12 to 5 p.m. This is the first year in the history of the restaurant that it has been open on this holiday. All -- 100 percent -- of the sales proceeds from the day will be split between Genesee Cancer Assistance and The Stafford Monument Committee, which is erecting a monument at the Stafford Four Corners to honor the past and present military personnel from Stafford. Throughout the month, we will have our annual buy a $50 gift certificate and receive a complementary $20 gift certificate as well.

It is extremely important to get our local businesses and their staffs involved in the holiday spirit. If we can make a small difference one can of vegetables or a package of underwear at a time, that's what we will do. We hope that our spirit of "Lovember" will resonate to other businesses within our area.