May 9, 2019 - 2:27pm
Rollover accident reported on Route 20 in Bethany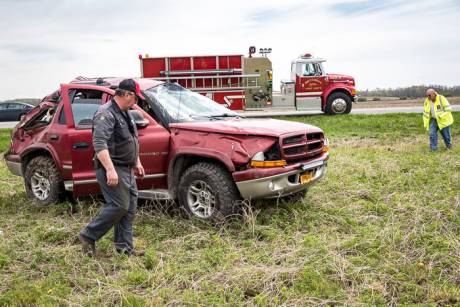 A one-vehicle rollover accident, unknown injuries, is reported in the area of 5563 Broadway Road, Bethany.
Bethany fire and Mercy EMS dispatched.
UPDATE 2:28 p.m.: There is a single occupant. He has blood on his face but is out of the vehicle.
UPDATE (By Billie) 3:07 p.m.: Mercy medics are transporting a 34-year-old male to UMMC. He is complaining of "chronic exacerbated lower back pain"; has a laceration over his right eye and on the bridge of his nose. He is alert, oriented and stable and had no loss of consciousness.
UPDATE: Photos by Glenn Adams.