May 20, 2017 - 11:50am
RTS rolls out new bus routes with more service, more connections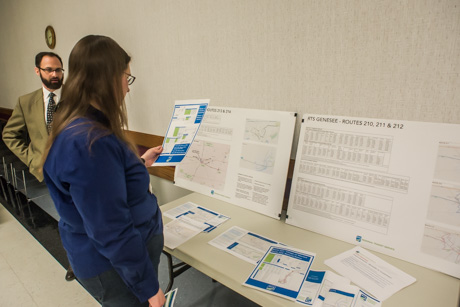 Customers of RTS will find it easier to get from Le Roy to shopping in Batavia, or from Batavia to neighboring counties, or from Batavia to Genesee Community College now that the transportation company has devised a new plan to help people get around better; it's based on an efficiency study RTS conducted.
There are new connections between Genesee, Orleans, and Wyoming counties on Tuesdays, Wednesdays and Thursdays;
There are now 10 trips a day to and from Big Tree Glen, the new apartment development on West Main Street;
Trips to and from GCC have been bumped up from five to six;
There is one new trip to and from Le Roy, which is an afternoon route, and times have been changed for two other Le Roy trips (to 3 p.m. and 5 p.m.).
The routes are also linked together more smoothly, so it's easier to change buses in a timely manner.
"Somebody coming in from Le Roy can go all the way to Tops, all the way to Walmart, all the way to Kmart," said Jamie Mott, regional manager for RTS for Genesee and Orleans. "With the current system, if you come in from Le Roy, you're done at the City Centre and then you have to wait. Now it's a little bit different. You can actually continue on."
The former dial-a-ride service in the city and the current countywide service have been combined to add flexibility to the program. Riders more than a quarter mile off the regular routes can make appointments for pick up and drop off at least 24-hours in advance of their planned trips.
All these changes came with the requirement from RTS management that service be expanded without increasing expense.
"We had to do redesigns based on what we were already budgeted for, so that was a big challenge -- to figure out how we could expand our services, especially when you have on-time performance that you have to maintain," Mott said.
May 21, 2017 - 12:14pm
#1
Howard,, How would I contact these guys?
Thanks TC