Image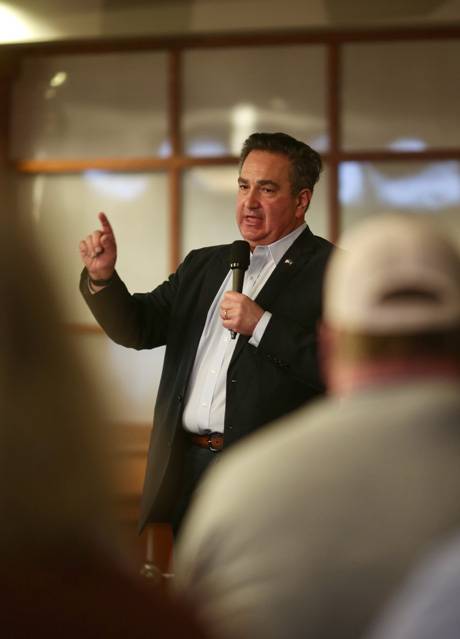 Upstate opposition to downstate policies is showing some small signs of success, State Sen. George Borrello told a group of residents at Batavia City Hall on Tuesday.
The residents gathered in Council Chambers for a 'Town Hall Meeting' hosted by Borrello, who represents the reconstituted 57th Senate District, which now includes Genesee County.
On the progress front, Borrello pointed to bail reform.  Gov. Kathy Hochul is backing some changes to the current bail laws in the current proposed budget, Borrello said.
"I can tell you that it's broken, and we're fighting an uphill battle," Borrello said. "We're into the wind every day, but we are making progress. The bottom line is it's up to the people of New York when the majority of people -- three out of four people in New York state, including New York City -- feel that bail reform needs to change. The governor right now she's backpedaling like crazy. She's trying to back herself out of all the promises she made when she was running, when she was down in New York City, abandoning her Western New York values to get re-elected or to get elected for the first time. But when she won by only 1,000 votes, she realized that something's got to change. So I don't have a whole lot of faith in her in many ways, but I think she's at least realizing that she's gonna have to figure out a way to right this ship. Otherwise, she's not going to be around much longer as our governor."
There's also growing opposition to proposals for solar panels and windmills all over the state, Borrello said.
He called the push for solar in the state "nothing but crony capitalism" that is doing more to enrich China than fight climate change.
"Let me tell you something, the proliferation of solar and wind in Upstate New York, this is not about climate change," Borrello said. "This is not about clean energy. It's about money. This is about a bunch of former used car salesmen inundating everybody with these contracts."
Borrello said he is also fighting to protect farms on other fronts, such as opposing changes to the overtime threshold for farm workers.
It's another area where upstate interests are making small progress.  Hochul, he said, is proposing a tax credit for farmers who do wind up paying overtime under the rule changes.
He also said a program that helps direct food from local farms to food banks has been made permanent.
"(Now) farmers can plan for it, and food banks can budget for it," Borrello said.
Upstate opposition to Hochul's housing plans, which reportedly could have forced municipalities to abandon their own zoning ordinance, has led to small changes.  The goal of building more affordable housing will be achieved through incentives rather than penalties, he said.
"I'm still not convinced," Borrello said. "There's still a backdoor way for the state to, essentially, bypass local zoning, local control. It's a bad idea. If you want to make housing more affordable in New York State, make New York State more affordable. That's the best way to do it."
Borrello said most of his colleagues in Albany lack the business experience (he and his wife own multiple small businesses, employing more than 200 people) necessary to help them understand the impact of their decisions on the people of New York.  They're insulated from the effects of those decisions, he said.  And while he's aware of reports of people fleeing the state because of high taxes and overregulation, he plans to stick around and try to make things better for New Yorkers.
"I'm here to stay and fight," he said. "Because this is a great place to be. It's a great place to live. I don't want to leave here. I don't want anyone else to leave here any more. So we're going to continue to fight back. We're gonna continue to push back and be that voice of common sense in Albany."
Photos by Nicholas Serrata.
Image