September 15, 2016 - 9:50am
Serious injury accident reported on Angling Road, Corfu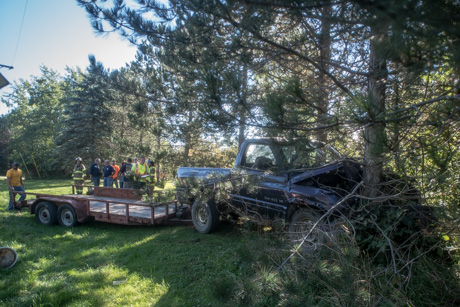 A serious injury accident is reported in the area of 2164 Angling Road, Corfu.
A victim is trapped in the vehicle.
Corfu fire and Mercy EMS dispatched.
The accident is reported as car vs. tree.
UPDATE(S) 9:56 a.m. (By Billie): Mercy Flight is called to the scene and a landing zone is to be set up just east of the location, possibly in the roadway.
UPDATE 10 a.m.: Traffic is to be shut down at Route 33 and Angling Road.
UPDATE 10:01 a.m.: The helicopter will land on property next to a barn, off the roadway.
UPDATE 10:02 a.m.: Mercy Flight has an 8 minute ETA.
UPDATE 10:06 a.m.: The address given now is 2176 Angling Road. A second Mercy ambulance is called in non-emergency mode for a subject with lacerations.
UPDATE 10:21 a.m.: Mercy Flight was canceled. A 56-year-old male will be taken by ambulance to UMMC after suffering a heart attack. Another is being treated at the scene for cuts and abrasions. A source at the scene says two brothers had just finished taking a load of scrap metal to a processing company when the driver seemed to suffer some sort of medical condition and appeared to faint, which caused the truck to veer into a tree head on.
UPDATE 10:28 a.m.: The ambulance, in which medics have been treating the patient, is now leaving the scene for UMMC.