June 14, 2018 - 5:47pm
Sheriff introduces new SROs in Alexander, Pavilion and Pembroke to the community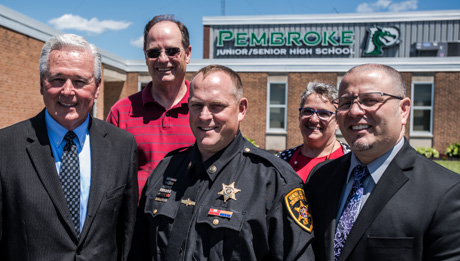 Sheriff William Sheron today introduced the three deputies who will become the new School Resource Officers in Pembroke, Pavilion and Alexander school districts.
Those district's past budgets in May commitment to pay for the SRO positions on their school campuses in 2018-19.
Deputy Patrick Reeves, a 21-year veteran of the force, is the new SRO in Pembroke. He's pictured above with Sheron, Pembroke Superintendent Matthew Calderon, and in the back row, Legislator Gordon Dibble and Legislator Shelly Stein.
Reeves is a lifelong Pembroke resident who has children in the district and is a youth sports coach.
"I think this is just the next step for me," Reeves said, "make that connection with the kids, keep them focused, get them to the end of their goals, get a good career, and while I'm in school, try to help every kid that you possibly can."
He said he hopes he can be a positive influence on some of the students he deals with over the course of the school year.
"Most kids need some guidance, and if I can connect with one or two who might need it, that's my fuel," Reeves said. "I win and the district wins."
Deputy Cory Mower, also a 21-year veteran of the department, is the new SRO in Pavilion.
Mower said he wanted to work with the Pavilion district because throughout much of his career on road patrol he's covered the southeast part of the county. He knows a lot of the students and their families already.
He also worked six years in the jail and came into contact with a lot of young people and believes that experience has given him some insight on how to help teenagers today.
"Now with the schools opening up (these positions), I just think it's a natural progression where I can use my experience to help some kids, maybe keep some kids out of trouble, maybe help them before they get addicted to drugs or make the wrong choice, the wrong move," Mower said.
Above photo: Sheron, Mower, Pavilion Superintendent Ken Ellison, Stein, and Legislator Gregg Torrey.
Deputy Eric Meyer, who attended Alexander Central Schools all the way through high school and still lives in Alexander has been assigned to his home school district. He is the new SRO in Alexander.
"I like the idea of keeping the children safe in my own district, in my own community," Meyer said. "I also live in the community so I thought it would be a great opportunity for me and for the school to be a positive role model for these kids."
He's already visited the elementary school and many of the students recognized him, said Meyer, who joined the Sheriff's Office three years ago.
"I already see the kids looking up to me and giving me high-fives and a hand clap," Meyer said.
Above photo: Sheron, Stein, Meyer, Alexander Superintendent Catherine Huber, Torrey.
Below, a press release from the Sheriff's Office:
Genesee County Sheriff William A. Sheron Jr. announces the newest School Resource Officer assignments in three local school districts.

Pembroke Central School District has chosen Deputy Patrick J. Reeves as its School Resource Officer. He graduated from Pembroke in 1992 and is a 22-year veteran of the Sheriff's Office. Deputy Reeves will start in this position on Sept. 1.

Alexander Central School District has chosen Deputy Eric J. Meyer as its School Resource Officer. He graduated from Alexander in 2006 and is a three-year veteran of the Sheriff's Office. Deputy Meyer will start in this position on Sept. 1.

Pavilion Central School District has chosen Deputy Cory W. Mower as its School Resource Officer. He is a 22-year veteran of the Sheriff's Office. Deputy Mower will start in this position on July 1.

Additionally, the Genesee Valley Educational Partnership (BOCES) and the Byron-Bergen Central School District also renewed their commitments for next year's School Resource Officers on campus.

Sheriff Sheron stated that it his goal to establish a School Resource Officer in all county school districts to ensure the safety and protection of the students and faculty.

"Although the cost associated with placing a School Resource Officer in the schools is significant, I believe the safety and security of our children should be of the utmost precedence," Sheron said. "I applaud the tremendous support received from the school administrators, school boards, and the Genesee County Legislature, which ultimately made this possible."