December 7, 2017 - 6:15pm
Sheriff promotes Joseph Graff to Chief Deputy, Road Patrol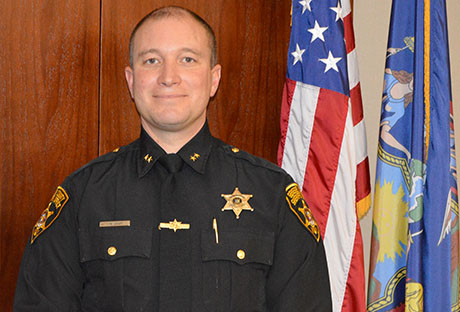 Press release:
Sheriff William A. Sheron Jr. recently announced that he has promoted Investigator Joseph M. Graff to Chief Deputy – Road Patrol, taking the place of Chief Deputy Gordon L. Dibble who is retiring on Dec. 30.

Chief Graff has been in law enforcement since 1999, starting his career as a Probation Officer for Genesee County. On Feb. 28, 2004, he became a Deputy Sheriff with the Genesee County Sheriff's Office. He was awarded the Joseph Stebelein Memorial Award and the Academic Achievement Award for Exemplary Achievement at his basic academy graduation. In 2015, Joe was promoted to Investigator. He is a current member of the Emergency Response Team; is a field training officer; and is an instructor for firearms, TASER, ASP, and OC Spray.  Chief Graff has been awarded two meritorious awards, one commendation, and was selected as Officer of the Year in 2007.    

Chief Graff is a Batavia native and a 1991 graduate of Notre Dame High School. In 1995, he graduated with a Bachelor of Arts degree in Economics, with a minor in Management Finance, from St. John Fisher. He resides in Genesee County with his wife, Erin, and their three daughters.  

"Chief Graff is a dedicated, professional officer who is well respected within the law enforcement community," Sheriff Sheron said. "I am honored to have him join the administrative team of the Genesee County Sheriff's Office."
December 8, 2017 - 7:04am
#1
Well deserved. Congrats Joe!
December 8, 2017 - 10:01am
#2
Congratulations, Joe. You come from great stock.