July 8, 2017 - 2:36pm
Sheriff's Office remembers officers who died while on duty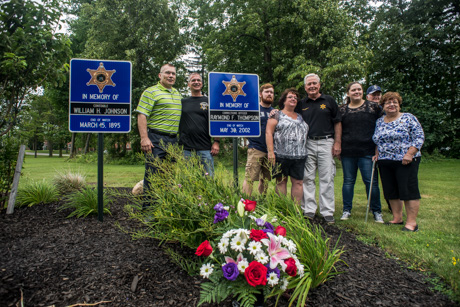 The Sheriff's Office dedicated two new signs in the garden outside the department's Park Road office this afternoon to the memory of William H. Johnson, who died in 1895, and Raymond F. Thompson, who died in 2002.
Pictured above, Deputy Brian Thompson on the left, with Undersheriff Greg Walker, and on the right, other members of the Thompson family with Sheriff William Sheron.
Brian Thompson is Raymond's brother. Raymond served eight years in the USAF in Security Police, then returned home, working in a couple of different manufacturing jobs before joining the Sheriff's Office as a corrections officer. He died on duty a few years later of a heart attack at the age of 37.
The dedication service comes on the third anniversary of the death of Deputy Frank Bordonaro, who is also honored with a sign in his memory in the garden.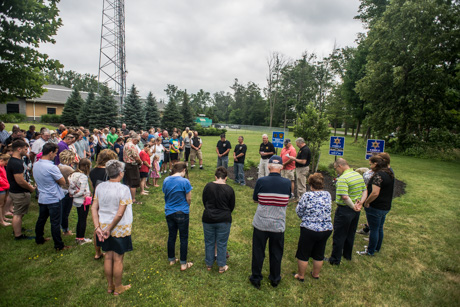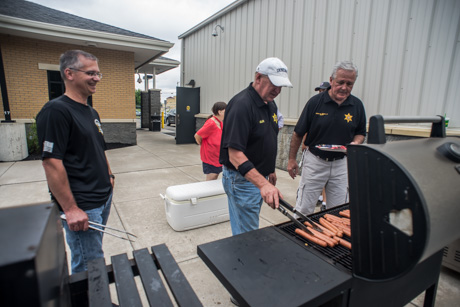 The ceremony was followed by lunch for all in attendance, with hot dogs, hamburgers and sausage grilled by, from left, Undersheriff Greg Walker, Chief Deputy Jerry Brewster, and Sheriff Bill Sheron.
Howard. I'm not sure who the "Ryan" you alluded to (twice) in this post is, but, Deputy Brian Thompson has never had a brother named Ryan.
Brian's older brother's name was Raymond.
Thanks to all of the Officers of the Peace for your service.