April 27, 2016 - 3:14pm
Simmons case continued until May 25 so attorney can appear with her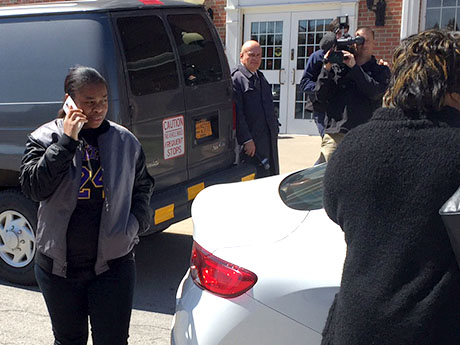 After being among Batavia's wanted for 18 months, Jacquetta Simmons, 30, appeared in court today following her arrest in Rochester last night, to answer to a charge of harassment 2nd.
Simmons, out of jail on $300 bail, asked for an adjournment of her case because on short notice, her attorney, Ann Nichols, could not appear in Batavia today.
The case was docked for May 25. 
In the meantime, Judge Durin Rogers issued an order of protection, which Simmons signed, barring her from any contact with the alleged victim in the harassment case, a 54-year-old woman.
Simmons was allegedly in an altercation of some sort with the woman back in October during a meeting at the YWCA. A couple of weeks later, a warrant was issued for the arrest of Simmons on the harassment charge. The warrant was reported by local and regional media in January.
The former Batavia resident gained international notoriety after punching a 70-year-old Walmart cashier on Christmas Eve, 2011. In August, 2012, Simmons was found guilty of assault in the second degree by a jury and later sentenced to five years in state prison. The sentence was later ruled too harsh by an appeals court and Simmons was resentenced to one year in jail.
Also in City Court today, 54-year-old Darlene M. Callan, charged with arson, 3rd, for allegedly starting a fire inside her home Monday at 189 South Main St., Batavia. Callan is being held on $25,000 bail and her attorney asked for her to be released under supervision given her lack of criminal record and ties to the community. Citing a low score on a bail review worksheet and concerns over recent substance use issues, Rogers declined to reduce the bail.
April 27, 2016 - 11:39pm
#2
Jacquetta Simmons and Suzanne Corona should get together...a regular Thelma and Louise !! Maybe they could write a book, "50 Ways To Beat Going To Jail" Or write a guide for parents, "How Not To Raise Your Kids". With these two, the possibilities seem endless...
Or perhaps someone could write a book about "Justice in Genesee County". Hmmm...