April 27, 2022 - 11:46pm
Six Flags officials show off newest thrill slide at Darien Lake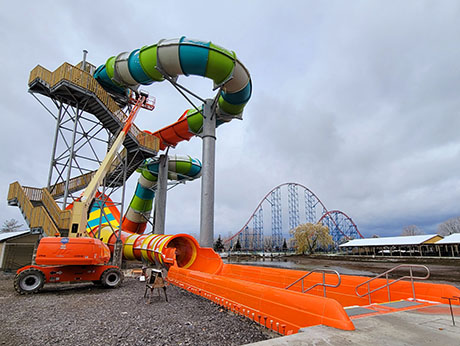 Regional media got a first look at the still-under-construction Wahoo Wave at Six Flags Darien Lake on Wednesday morning.
The 60-foot-tall thrill slide will rank as one of the tallest water rides in Hurricane Harbor.
The ride features a 30-foot vertical plunge.
First, riders will barrel down an enclosed tunnel slide, twisting around tight turns and slipping and sliding downward for 30 feet. Then they will drop three stories into Wahoo Wave's signature feature, a huge water wave wall. Riders slide vertically up the wall and let gravity pull them back down with weightlessness into the splash pool below
The Wahoo Wave includes a twist through a hairpin turn, followed by a corkscrew, and then without warning, riders in four-person tubes will plunge down a three-story drop.
Darien Lake management promises an "adrenaline-packed adventure that will send riders into near-vertical motions to experience extended hang times and zero g-forces."
The thrill wave is scheduled to open when the park opens on Memorial Day weekend, Saturday, May 28, 2022.
Photos by Alecia Kaus/Video News Service