July 19, 2017 - 9:23am
Soggy course doesn't dampen day for Arc tournaments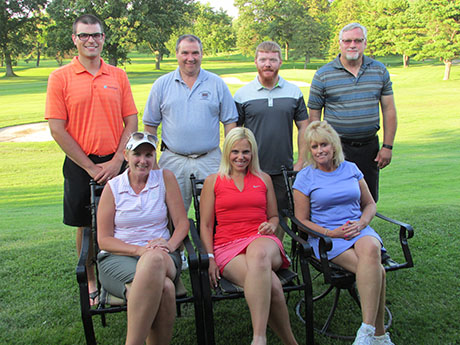 Press release:
Assistant Golf Professional Mike Eichner urged golfers to use common sense when negotiating the Stafford Country Club course during the 41st Annual Arc of Genesee Orleans Lullo Memorial Tournament. Although the weather was picture perfect Monday, recent heavy rains resulted in areas along the 96-year-old course that was a little challenging.

"In the end, it was a great day of golf for the Arc," Eichner said.

The tournament also features tennis and bocce divisions.

In golf play, Jonathan Tretter and Marc Ramos came out on top, both shooting a 77.  Low gross honors for women went to Tina Lambert with an 84.

In the low net category, Bryan Countryman and Paul Marchese tied at 64, and Ed Shultz was close behind with 65. Francesca Fuller had a low net score of 73 for women.  

In the blind bogey competition, Alan Saskowski matched the blind bogey number drawn of 74.

The hole-in-one contest on 8 was sponsored by Castilone Chrysler Dodge Jeep Ram. Unfortunately, no one shot an ace to drive away with a 2017 Ram Pickup Express.

In other contests on the course, Zach Fuller won the longest drive on 15 and honors for longest putt on 11went to Dan Burnham who sank a 60' 5" putt! In the closest to the pin contests, John Curtiss won a golf bag, courtesy of C.H. Wright on 8 (20'2");  Marc Ramos earned top prize on 12, a Red Osier Gift Certificate; Paul Barton won a Schwinn bicycle, donated by Adam Miller Toy and Bicycle in the top prize on 14(15'6").  The contests on #11 and #12 this year honored the memory of Ralph Houseknecht, a disability advocate and Arc supporter who passed away in 2016. Three generations of the Houseknecht family were represented at the tournament on Monday, the same day an engraved stone was installed on the course in his memory between the 12th tee box and a walking bridge that also bears his name. 

In bocce, the first-place team representing ESL Federal Credit Union was Jim Miller, Jenna Holota, Mary Blevins and Dan Basch.

In tennis, first-place team honors went to Steve Clemm and Paul Hiscutt. Second-place team went to Diane Bonarigo and Jerry Reinhart. Bonarigo also earned top score in the tennis division.

Gold sponsors of the event were Turnbull Heating & Air-Conditioning, Graham Corporation, MTE Turf Equipment Solutions/Tom & Lynn Houseknecht, Crickler Vending, One Group, Relph Benefit Advisors and Tompkins Bank of Castile /Insurance Agencies/ Financial Advisors. Silver sponsors were: Batavia Turf, The Daily News, The Bonadio Group, Oakfield Family Medical Care, Alpina Foods, Erie and Niagara Insurance Association, In Memory of Ralph Houseknecht, Castilone Chrysler Dodge Jeep Ram, Tops Friendly Markets, Bessey Tools, Parkview Health Services, Genesee Valley PennySaver and Manning Napier, One Group and The Insurance Center.

Also supporting the event were 12 golf sponsors, three tennis sponsors, seven bocce sponsors and seven Friend of Arc Tournament sponsors. Door prizes, silent, and Chinese auction items were donated by dozens of area businesses. The 2017 cart sponsors were Philadelphia Insurance and Pinnacle Manufacturing.

A total of 124 golfers, eight tennis players, and 36 bocce players participated in the annual event that raises money to benefit programs and service for people with disabilities served by Arc of Genesee Orleans.

The winner of the $1,000 cash drawing was Ron Brueckner with ticket number 15341. The ticket seller was Deb Hinze, of Batavia.

The Arc of Genesee Orleans Lullo Memorial Tournament is named in memory of Danny Lullo, a local businessman who came up with the idea to hold a tournament to benefit Genesee ARC programs and services for people with disabilities in our community. The Tournament is the longest-running charity event at the local private country club.

Ed Carney is the event chairman. Peggy Lamb chairs tennis and Deb Fischer chairs bocce.